The Patriots must get better with their pass rush. New England ranked 23rd in the league last year in quarterback sacks, finishing with 31. The Patriots' opponents in the AFC East are extremely run-heavy, but more consistent pressure is needed. There isn't one player on this defense that opposing offenses fear when designing their protection schemes.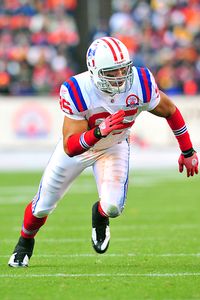 Ron Chenoy/US Presswire
Tully Banta-Cain's 9.5 sacks in 2009 might not be an every year thing for the Patriots.The Patriots' three-man defensive line was very ordinary rushing the passer in 2009. Remember, future Hall of Famer Richard Seymour was shipped to Oakland before the season and his contributions in this department were sorely missed. However, in base personnel situations in this scheme, the primary job of the three-man front is not to rush the pass. It would be nice to get more interior push from the front three, but overall, these guys are run-stuffers who allow the rest of the defense to shine. This is especially true for Vince Wilfork and Ty Warren, who continue to do their jobs at a very high level.
Tully Banta-Cain was a very pleasant surprise and registered 9.5 sacks last year. He will be back, but I still contend he is just an average overall edge-rusher and double-digit sacks are not something we should expect from him on a year-to-year basis. Banta-Cain could be perfect for a No. 2 guy coming off the edge, especially if the Patriots could find a true difference-maker to plug in as the opposite outside linebacker.
Adalius Thomas has been a major disappointment and the aging Derrick Burgess was very average rushing the passer in his one season with the Patriots. Youngsters Pierre Woods and Shawn Crable have ability, but have not taken the next step in their development. They are probably best suited as depth players who contribute on special teams and see a limited number of snaps per game.
The Patriots are not short on draft day needs. With the high percentage of three wide receiver sets that New England likes to play, I have wideout atop its wish list, but clearly outside and inside linebacker could use help, along with tight end, defensive end and maybe even a difference-maker at running back.
But the Pats have a lot of cards in their hand. They possess the 22nd overall selection in the first round and three second-round selections. Don't forget that New England also has Oakland's first-round pick, which could be very early, in the 2011 draft. If the Patriots have the desire to climb up in the draft for a pass-rusher or someone else, they have the assets to make that happen while still having valuable draft picks to fill other needs. It also wouldn't hurt to add an inside linebacker with strong blitz skills.
Going back to outside linebacker, I can't see bringing in anything but a high-end prospect. This team has capable players at the position, but needs a difference-maker. New England prefers tall, long-armed "body type" outside linebackers. Texas' Sergio Kindle and USC's Everson Griffen fit this mold and are superb athletes, but they are more finesse players than what the Patriots usually covet. Maybe New England moves up to get a guy like Jason Pierre-Paul, who is pretty much exactly what they look for. But there are two players in this draft who don't fit that typical mold, but could available and might be exactly what they need: Jerry Hughes from TCU and especially Brandon Graham from Michigan. These two can really get after the quarterback, have more of an edge to their games and would make an instant impact, even it were just on throwing downs as they learn the craft during their rookie seasons. Neither offers the body type of a player like Crable -- actually they are built more like Banta-Cain -- but it might be time for New England to alter its profile of the position a bit and add a very good football player like Hughes or Graham.