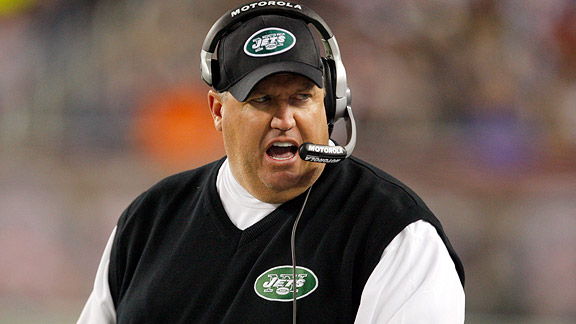 AP Photo/Stephan Savoia
The New York Jets and coach Rex Ryan have a target on their backs for 2010.Why can't Rex Ryan shut the hell up?
Don't the Jets realize they lucked into the playoffs and aren't that good?
Those delusional fans with their obnoxious "J-E-T-S" chant couldn't be any more grating.
Same with trash-talking players like Bart Scott, who's just begging to have a game ball crammed down his gullet.
Even the owner whines too much.
That pretty-boy quarterback and all those interceptions. Sheesh, is he overrated.
And now the whole irritating production will be on "Hard Knocks" this summer?
Oh, the New York Jets sure can angry up the blood.
There has been a noticeable turn within the AFC East and perhaps the entire league when it comes to the most hated team. Based on reader feedback and the disdain expressed on sports-talk shows and message boards, the Jets have replaced the New England Patriots as the team opposing fans love to hate.
While the relatively dull Patriots bowed meekly from the first round of the playoffs, the Jets continued to churn out material upon which their detractors could harp. The ultimate AFC East putdown has changed from Spygate comments to snide remarks about Ryan's weight.
Of course, nobody would say a peep if the Jets weren't good. Being loathed means you're worth the bother.
"When things are going well and fans are saying crazy things, it's a sign of respect," Jets receiver Jerricho Cotchery said. "We're definitely happy a lot of attention is being paid this way."
Much of it can be attributed to fan envy. With few exceptions, loyalists would love for their teams to deliver as the Jets do.
The Jets are the NFL's most entertaining organization, which is why they were chosen for this year's edition of "Hard Knocks," an all-access training-camp series on HBO.
Only two teams went farther than the Jets did in 2009. They have a front office that identifies a need and aggressively pursues a remedy, whether through trades or free agency.
The players all appear to be having a blast. Ryan lets them speak their minds -- and infamously flashed his middle finger at some Miami Dolphins zealots a week before the Super Bowl. While other teams have policies that gag their players, the Jets encourage them to talk loud and proud. On the field, Ryan cuts his players loose with game plans that get them jacked up.
"That's the old saying, if you're having too much fun, you're not working hard enough," Cotchery said. "Everyone sees how much fun we're having, how guys are able to be themselves and express themselves however we want to express ourselves.
"But we work extremely hard, and we reward ourselves with the fun. A lot of players don't experience that fun. There are some people on the other sidelines who are jealous."
Cotchery said he noticed opposing fans start to build a healthy dislike for the Jets toward the end of the 2008 season.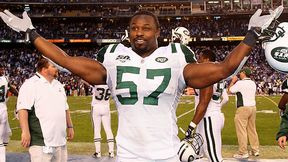 Al Pereira/Getty Images
Outspoken players like Bart Scott make the Jets the team you love to hate.Quarterbacked by Brett Favre, the archbishop of lightningrodism, the Jets started the season 8-3 and became a fashionable Super Bowl pick. But Favre's arm went limp down the homestretch. The Jets careened through December, finishing 9-7 and out of the playoffs. They fired tedious head coach Eric Mangini and brought in a charismatic figure.
"When Rex came in, [the hatred] went to another level," Cotchery said.
The rookie head coach immediately was viewed as a blowhard for suggesting -- at his introductory news conference, no less -- he would take the Jets to a championship.
Jets fans loved Ryan's brash demeanor, but his bombast chapped most everyone else. He courted criticism with his brash statements. His tone that was alternately humorous and confrontational. He sneered that he wasn't interested in kissing Bill Belichick's rings and got into a verbal joust with Dolphins linebacker Channing Crowder.
Ryan, the face of the Jets, became a chief NFL villain.
"I'd rather be hated and have him leading us," Cotchery said, "than have to play against him."
The Jets didn't look like a joke when they opened the season 3-0. But then they fell apart, losing six of their next seven games. All the while, Ryan kept talking up his team. He came off as arrogant, a loudmouth with a losing record in late November.
After a painful Week 15 loss to the Atlanta Falcons gave the Jets a 7-7 record, Ryan declared him team mathematically eliminated from postseason contention.
How absurd it became, then, when the Jets made the playoffs. Opposing fans were beside themselves. The Indianapolis Colts and Cincinnati Bengals rested their star players, allowing the Jets to win their last two games and earn a wild-card entry. Ryan distributed to his players a postseason itinerary that included a parade through the Canyon of Heroes on Feb. 9.
Their success widely was viewed as a fluke. Other fans ridicule Jets followers for getting excited about 2010.
Cotchery acknowledges the derision that exists in the stands and around the league.
"We still have that in mind," Cotchery said. "We still have some respect around the league, but we do still have some teams that don't respect us. That's very well in mind. That's big motivation for us."
"That generates energy and excitement for us. We like it when the fans don't like us."