A couple weeks ago, Football Outsiders managing editor Bill Barnwell examined how effective New York Jets running LaDainian Tomlinson has been in goal-line situations.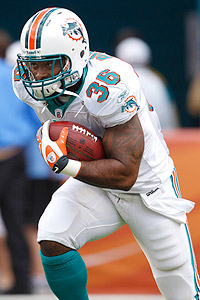 Joel Auerbach-US PRESSWIRE
Miami running back Lousaka Polite was one of the AFC East's most effective backs in short-yardage situations.We learned Tomlinson's numbers weren't as good as they appeared in 2009.
Since then, Barnwell was kind enough to process goal-line and short-yardage (1-to-2 yards) data for every AFC East running back to share on the blog.
First, an explanation of Barnwell's process.
Rather than merely trot out the number of goal-line touchdown runs, Barnwell went back a full decade to research every NFL rushing attempt inside the opponent's 5-yard line to put the production in context.
He took the total number of touchdowns scored across the league and calculated the average for given situations. For example, runners scored on 52.9 percent of their attempts from the 1-yard line, and 31.1 percent from the 3-yard line.
Barnwell then looked at individual players to see how well they performed against the league average. He took it a step further for the AFC East blog and applied the same process to consider 1- and 2-yard carries for first downs.
What we found is that oft-maligned New England Patriots back Laurence Maroney had a better season that you might think. So did Miami Dolphins backs Ricky Williams and Lousaka Polite. Buffalo Bills tandem Marshawn Lynch and Fred Jackson lagged at the rear of the pack.
Maroney scored eight goal-line touchdowns, 1.65 more than the decade average would suggest. That was the division's best differential. Maroney also converted three more first downs than the average in short-yardage situations, third-best in the AFC East.
Williams was second in goal-line production and tied with Polite for the lead in short-yardage conversions among all AFC East backs.
We also learned when it came to converting short-yardage first downs, almost every AFC East back in 2009 performed higher than the league average over the past decade.
Lynch, Jackson and former Jets running back Thomas Jones were the only ones to come in under the average for short-yardage first downs.
AFC East RB's goal-line production, 2009
AFC East RB's short-yardage first down conversion, 2009