Three years ago, Jay Feely left the New York Giants as a free agent and signed a handsome deal to kick for the Miami Dolphins.
The Dolphins went 1-15 that season. The Giants won the Super Bowl.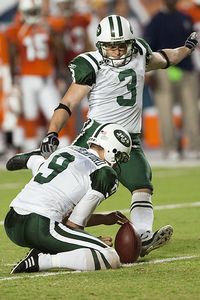 Michael DeHoog/Sports Imagery/Getty Images
Jets kicker Jay Feely signed a two-year deal with the Arizona Cardinals on Friday.Already, Feely is dreading the possibility he might have left another team on the verge of a championship.
"Man, I'd give up every extra dollar I got from Miami to win the Super Bowl," Feely told me in a phone interview Friday afternoon shortly after his agent signed a two-year deal with the Arizona Cardinals. The decision closed the door on Feely returning to the New York Jets, a team that came 30 minutes away from reaching the Super Bowl two months ago.
"Hopefully I don't look back in retrospect and have the same thing happen all over again. That would kill me to have it happen twice. But I won't be rooting against the Jets."
Feely wanted to remain with the Jets. He said he could have rejoined the club three days ago if he wanted. But he couldn't bring himself to accept the club's proposal. Feely claimed the Jets offered him a one-year contract for $300,000 less than he made last season.
The Jets signed free-agent Nick Folk in late February, but that didn't necessarily mean the Jets weren't open to Feely's return.
Feely said Jets coach Rex Ryan called him several times since the season ended, most recently over the weekend.
"I know that he wanted me on that team," Feely said. "Whether they believe in Nick Folk that strongly or have a certain dollar amount allotted to that position, I don't know. But the guys that make the decisions financially made the call. I understand that. I accept that. I'll move on.
"I don't take it personally even though I'm disappointed."
Feely will be reunited with safety Kerry Rhodes, who the Jets traded to the Cardinals last month, and former Dolphins teammate Joey Porter. Feely mentioned the Cardinals' leadership and track record as major influences in his decision to move to the desert. Kicking in domes as opposed to the Northeast's winter elements didn't hurt either.
Feely expressed regret over leaving the Jets' locker room, which he described as borderline utopian.
"There's no question that I love that organization," Feely said. "It's a great locker room. The guys on that team are tremendous to be around, a very open and welcoming locker room with a lot of young talent. The foundation is in place for them to be good for a long time.
"The relationship between the coaches and players is unique. It's an ideal fit. The coaches have authority and demand the most, but have the respect of the players, who give their best out of mutual admiration.
"Nobody would want to leave that environment."
Feely's 122 points last year ranked third in Jets history for scoring among kickers. He set a club record with 24 straight field goals and tied a team record with a 55-yarder in Week 8.
Feely converted 30 of his 36 attempts, ranking 17th among regulars at 83.3 percent. He made 12 of 15 attempts from 40 yards and out.
"I got calls from every coach, from [special-teams coordinator] Mike Westhoff to [offensive coordinator] Brian Schottenheimer and Rex," Feely said, "and all of them had awesome things to say.
"I can leave feeling good, knowing that I gave everything I had. I know they respect me as a player and a leader and a man."