Is former Syracuse receiver Mike Williams worth the risk?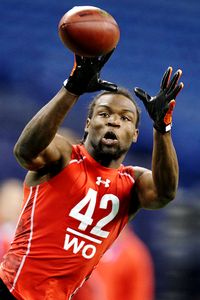 AP Photo/Michael Conroy
Former Syracuse wide receiver Mike Williams thinks he's going to be a "steal" in the draft.Williams is one of the most intriguing players in this year's draft. While most draft observers have focused on Oklahoma State receiver Dez Bryant as a high-risk, high-reward prospect, Williams has been overlooked despite the fact he might present an even greater conundrum.
All four AFC East teams have needs at receiver. Williams has visited with the Miami Dolphins. The Buffalo Bills attended his pro day, which took place Monday in their backyard at the Thurman Thomas Training Complex.
Williams has star talent -- maybe more than Bryant, who's expected to be the first receiver drafted, possesses. But teams are wary of the problems Williams experienced at Syracuse. He was suspended for 2008 for cheating on an exam. He was suspended for a game last year, and eventually either quit or was kicked off the team -- depending on the story -- for unclear reasons.
At the NFL scouting combine, Williams was peppered with questions about his background and dedication. He declined to explain the reasons why he left Syracuse, but acknowledged it was important to show teams he's not a problem child.
"I want to let them know that I'm a nice person," Williams said then. "I'm a good person. School was just my problem. I had bad judgment when I was young. School has been my problem. I want to let them know I can play football and be there for that team.
"All through my life I was having a problem with grades. I didn't excel in school, that's not one of my strong points."
Since Williams is such a curious prospect, I asked Scouts Inc. analyst Steve Muench for his take.
"Williams plays like a first-round pick on film," Muench wrote in an e-mail. "He has the potential to develop into a crisp short-to-intermediate route runner. He is fast enough to stretch the field, and he catches the ball well.
"However, teams are unlikely to invest a first-round pick in him, and there's a good chance he slides to the third. Questions about his character and commitment to the game make him a risky pick. It doesn't help that he didn't run as well as expected at the combine or in his workout, and he appears to have gained some weight since leaving the Syracuse program."
In 31 games for Syracuse, Williams caught 133 passes for 2,044 yards and 20 touchdowns.
Buffalo News reporter Mark Gaughan noted Williams matched his combine 40-yard dash of 4.53 seconds on Monday. That's not awful for a receiver who's 6-foot-2 and about 220 pounds, but other receivers are much faster. Williams' vertical jump was 36.5 inches. His broad jump was 9 feet, 10 inches.
"I made some mistakes," Williams told Gaughan. "I've got to learn from my mistakes and make up for it. I've just tried to let all of them know that I can do this. This is what I do. I love football.
"If I don't go in the first round, I'm going to be the steal of the draft. I tell people that: It don't matter where I go. I'll be the steal of the draft. I'm going to be a good character guy and love my teammates."