Zach Thomas is infuriated over the way the Miami Dolphins handled Jason Taylor's departure.
Thomas and Taylor combined for 13 Pro Bowls in the 11 years they starred together for the Dolphins defense. They're also brothers-in-law. Taylor married Thomas' sister, Katina.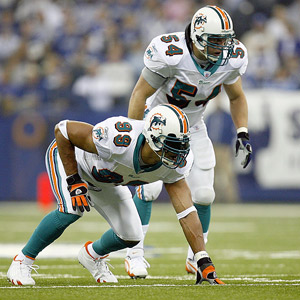 Gregory Shamus/Getty Images
Zach Thomas (right) was not pleased with the way the Dolphins treated his former teammate, Jason Taylor (left).So you better believe Thomas had a well-informed and passionate opinion about how the Dolphins handled Taylor's situation and his decision to join the New York Jets.
"Everybody hates the Jets," Thomas told Sid Rosenberg of Miami sports-radio station WQAM. "I hate the Jets. But he has to do what he has to do and get respect. You're driven by respect as a player, especially the good ones. And he's got it from Rex Ryan."
Thomas' comments will resonate with Dolfans. While they ran hot and cold with Taylor over the years because he sometimes was viewed as a pretty boy who made too many commercials and dared to participate in "Dancing With the Stars" and not Bill Parcells' first offseason conditioning program in 2008, Thomas is revered.
Thomas is a Dolphins icon, an everyman overachiever who was drafted in the fifth round and selected first-team All-Pro five times. When I asked readers to select their Dolphins Mount Rushmore as part of an ESPN.com project last year, Thomas received the fourth-most votes behind Dan Marino, Don Shula and Larry Csonka.
Thomas, his decibel level rising throughout the interview, said he's "a Dolphin for life," but alleged Taylor deserved better treatment from general manager Jeff Ireland.
"I mean, all-time sack leader right now as an active player, and you're going to talk about him when you're asked in the media like he's a first- or second-year player?" Thomas said. "[Ireland] should know how to respect guys that's been great to the game. That's fine if you don't have a need for him, but you tell him up front."
The Dolphins insisted upon waiting until after the draft to address Taylor's future with the club. Even then, there were no guarantees they'd have Taylor back.
The move was bittersweet for Thomas, who predicted Taylor will thrive with the Jets.
"He's sad," Thomas said. "He waited as long as he could. Everybody wants to feel wanted. The Jets, they wanted him. They're a team on the rise, and I hate to say it, but they got the No. 1 defense and are going to be even stronger, and you don't think Rex Ryan has a game plan for Jason Taylor?
"It's going to be better than the game plan they used with him [in 2009] because I hated watching it. When they were taking him out on third down, it was like taking Bruce Smith out on third down. That was frustrating for me. I'm a fan now. You don't take one of the greatest pass-rushers of all-time out on third down."
Thomas didn't appreciate the way the Dolphins handled his exit after the 2007 season, either.
Shortly after Bill Parcells took over football operations and hired Ireland and head coach Tony Sparano, they released Thomas after a dozen highly decorated seasons.
Thomas said he had only one request as he cleaned out his locker, to say goodbye to Dolfans with a news conference at the team's facility. The request was denied.
"You've got to respect players that's been good to the game," Thomas said. "I don't like the organization to look bad that way."