Just once, I'd love to hear an NFL general manager lean into the microphone and admit he didn't get the players he wanted in the draft.
Alas, the moment the draft wraps up is the most optimistic time of the year. Every front office loves its new prospects. Fans hope every one of them will be a superstar.
In reality, the draft is a scattershot event. There will be more failures than successes, and we probably won't know for a couple years which teams truly did well over the past three days.
But the infusion of newcomers will have an immediate impact. It only takes one or two players -- Mark Sanchez, Shonn Greene or Jairus Byrd to name a few -- to make a difference, especially in a tightly contested division.
Here are some draft highlights from the AFC East:
Best move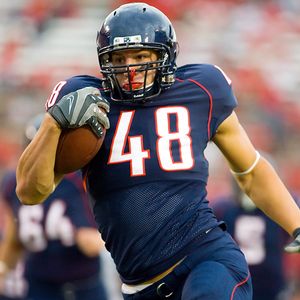 Chris Morrison-US PRESSWIRE
The Patriots got first-round talent in second-round pick Rob Gronkowski, a tight end from Arizona.The New England Patriots traded up two spots in the second round to outmaneuver the Baltimore Ravens and select Arizona tight end Rob Gronkowski with the 42nd pick.
Gronkowski is a first-round talent, but slipped because of medical concerns. He entered the draft a year early despite missing last season because of lower back surgery.
Patriots coach Bill Belichick wasn't concerned. He said the team's medical staff signed off on Gronkowski's back.
"We have a deal," Belichick said. "I don't diagnose the players and they don't call plays.
"He's a hard matchup for a defensive back. He's big, and he plays big, and he has a big frame. A lot of times he just boxes them out, and they stuff it in there to him, and he's just a hard guy to cover. He's a strong runner with the ball in his hands."
Riskiest move
The Gronkowski selection could be listed here because back problems can plague a physical athlete, but the biggest gamble was the Buffalo Bills' decision to take Clemson running back C.J. Spiller with the ninth overall pick.
Spiller very well could be a star for Buffalo. He better be. The Bills ignored several serious needs -- offensive tackle, nose tackle and quarterback among them -- and added Spiller to a backfield that already included a pair of 1,000-yard backs.
Who will get him the ball? Who will block for him?
The Bills passed on Iowa tackle Bryan Bulaga and Tennessee nose tackle Dan Williams, Notre Dame quarterback Jimmy Clausen twice and Texas quarterback Colt McCoy thrice.
Buffalo didn't pick an offensive tackle until the fifth round, taking Virginia Tech's Ed Wang at 140th overall -- a span of 429 picks league-wide since the last time Buffalo drafted a tackle.
Most surprising move
Thanks to an active offseason that featured several trades and free-agency signings, the New York Jets went into the draft with few glaring needs.
But they did have a couple. Analysts expected them to bolster an aging defensive line or add a safety.
The Jets chose to address stable positions, however, and also added players to their deepest positions.
Their first four picks were Boise State cornerback Kyle Wilson (despite having Darrelle Revis and Antonio Cromartie), UMass guard Vladimir Ducasse (before cutting Pro Bowl guard Alan Faneca), USC running back Joe McKnight (despite having the No. 1 run offense) and fullback John Conner (with a pick acquired in a trade that sent Leon Washington to the Seattle Seahawks).
File it away
The Miami Dolphins drafted a pair of defenders within the first 40 picks, Penn State defensive lineman Jared Odrick and Utah edge-rusher Koa Misi. You would expect both of them to contribute right away.
A player taken much later also could find his way into the starting lineup. Hard-hitting Georgia safety Reshad Jones was projected by many to be a third-round draft pick. The Dolphins got him in the fifth.
The Dolphins have a major need at free safety. They cut last year's starter, Gibril Wilson. The only other options on the roster are Tyrone Culver (two career starts in three NFL seasons) and Chris Clemons (two starts last year as a rookie).