Now that the Buffalo Bills have fired Dick Jauron, who are the candidates to be their head coach in 2010?
Here are some thoughts on a few potential candidates in no particular order: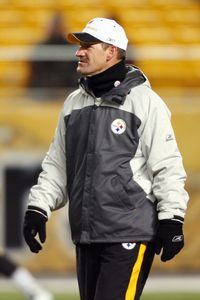 Jason Bridge-US PRESSWIRE
Hiring former Pittsburgh Steelers coach Bill Cowher would be a splashy move for the Bills.Bill Cowher: It would take a gigantic change of philosophy for Bills owner Ralph Wilson to sign off on a larger-than-life coach such as Cowher. Wilson's modus operandi has been to pursue coaches who don't command a high salary and don't expect organizational control. Cowher essentially has his choice of any openings and will need to be dazzled by an offer the Bills have no history of making.
Mike Holmgren: See Cowher.
Mike Shanahan: See Holmgren.
Jon Gruden: See Shanahan.
Tony Dungy: See all of the above. Plus, he seems to enjoy retirement. He had peace of mind in leaving one of the NFL's elite franchises. It would be a colossal stunner if he would consider joining one of the decade's least successful clubs.
Marty Schottenheimer: The former Cleveland Browns, Kansas City Chiefs and San Diego Chargers head coach has a reputation for getting his teams into the playoffs but not Super Bowls. Bills fans certainly would settle for that. Schottenheimer spent four seasons playing linebacker for Buffalo, winning an AFL championship his rookie year.
Jim Haslett: Many observers see the former New Orleans Saints and St. Louis Rams head coach as the perfect choice. Teams often like to go with a coach that has a different personality from the one they just fired. Haslett would be that. He's fiery. He also has a history with Buffalo. He played linebacker for the Bills from 1979 through 1985 and got his start in coaching as an assistant for the University of Buffalo.
Brian Billick: If the Bills wanted a coach with an offensive background, Billick is available. He was Baltimore Ravens coach for nine seasons, winning the Super Bowl in 2000.
Mike Martz: Similar to Billick, he's an offensive coach with Super Bowl credentials and currently works for the NFL Network. He coached The Greatest Show on Turf with the Rams for six seasons.
Jim Fassel: Fassel likely would be reasonably priced. He has been eager to get back into the NFL since he was fired as the Ravens' offensive coordinator in 2006. Fassel was head coach of the New York Giants from 1997 through 2003, winning one NFC title.
Perry Fewell: The Bills' defensive coordinator has been named interim head coach. He never has been a head coach at any level, but when clubs look for an interim coach from within, they generally look to the offensive or defensive coordinator. Offensive coordinator Alex Van Pelt was installed 10 days before the regular season and hasn't exactly done a bang-up job.
Bobby April: Buffalo's assistant head coach and special-teams coordinator would seem to be a candidate based on how highly he's respected around the league. But it doesn't bode well that Wilson bypassed him for Fewell.
Other names to consider: Todd Bowles (Miami Dolphins secondary), Ted Cottrell (former Bills defensive coordinator), Jason Garrett (Dallas Cowboys offensive coordinator), Turner Gill (University of Buffalo head coach) Leslie Frazier (Minnesota Vikings defensive coordinator), Mike Leach (Texas Tech head coach), Paul Pasqualoni (Dolphins defensive coordinator), Brian Schottenheimer (New York Jets offensive coordinator), Marc Trestman (Montreal Alouettes head coach).