The Miami Dolphins' outside chances of making the playoffs have gotten significantly more remote.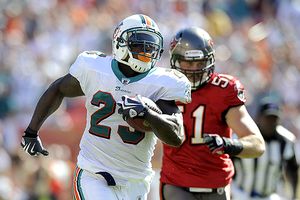 Steve Mitchell/US Presswire
Dolphins running back Ronnie Brown's season is over.A foot injury landed Pro Bowl running back Ronnie Brown on season-ending injured reserve Wednesday.
The Dolphins previously announced Brown would miss Thursday night's game against the Carolina Panthers, but Dolfans held out hope he would be back for part of the homestretch.
Miami ranks fourth on the ground at 156 yards a game. Brown had a team-high 648 rushing yards and eight touchdowns, tied for fourth in the league.
Brown's absence leaves the rushing duties almost exclusively to Ricky Williams and probably snuffs the Wildcat offense.
Dolphins coach Tony Sparano expressed confidence Williams could handle the Wildcat's direct snaps, but didn't say who would handle Williams' motion-man role that makes the play so tricky to defend.
"Ricky has been back handling the snaps," Sparano told reporters Monday. "There is going to be some other people if Ronnie isn't able to be out there that would come into play."
Miami chose to fill Brown's roster spot with safety Nate Ness and not another running back.
The only other available running back with a carry this year is fullback Lousaka Polite, a fine third-and-short runner, but probably not a legitimate complement for Williams. Polite is averaging 2.9 yards on 18 attempts.
Second-year pro Lex Hilliard wowed Dolfans in exhibitions, but hasn't touched the ball in the regular season. A knee injury ended utility back Patrick Cobbs' season in Week 5.