FOXBOROUGH, Mass. -- With 30 seconds left in the game and ahead by 17 points, the New England Patriots tried to deliver a sucker punch.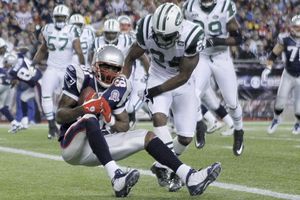 AP Photo/Charles Krupa
Aside from a 4-yard touchdown grab, Bills cornerback Darrelle Revis was successful in defending Patriots receiver Randy Moss.Tom Brady loaded up and fired a bomb toward Randy Moss down the left sideline. The intention was clear. They wanted to sting New York Jets cornerback Darrelle Revis.
Revis, as he had throughout the game, was in Moss' back pocket. The pass fell incomplete.
"We know the Patriots don't quit," Revis said with a laugh. "They want to keep on adding points up on the board. I knew it. I was ready to go. It's just a play, and I did my job on that play."
The Patriots won Sunday's game 31-14 in Gillette Stadium, but Revis won the hotly anticipated rematch with Moss.
In Week 2, Revis limited Moss to four catches for 24 yards at the Meadowlands. Moss made some dismissive comments afterward about Revis having coverage help. Revis insisted he stopped Moss one-on-one. Moss on Friday said Revis better put up or shut up.
Brady targeted Moss 11 times Sunday. Moss caught four passes for 28 yards and was called for an offensive pass interference penalty with Revis guarding him.
"Randy is a great receiver," Revis said. "I give him a lot of respect. When me and him battle, it's great battles."
Moss did beat Revis for a touchdown on a nearly indefensible 4-yard timing pattern in the first quarter and caught a 6-yard pass with cornerback Drew Coleman covering.
"Revis did a great job on Randy Moss, just like he did the last time," Jets coach Rex Ryan said. "That's one guy that actually won his battle."
The Patriots tried to surprise Revis with a flea-flicker early in the first quarter. Revis didn't bite. That pass also hit the ground.
"Moss tried to catch me sleeping," Revis said. "That's football. They bring the best out in you. I enjoy the competition. I'm expecting the ball to come my way when you're covering a guy like Randy Moss."
Moss didn't speak to reporters afterward, but Ryan was quick to declare Revis the victor for that individual matchup, at least.
"We got the best corner in football," Ryan said. "He's going against Randy Moss. This is one heck of a football player in his own right, a Hall of Famer, the best vertical receiver in the game. Revis never flinched one bit.
"Out of 11 one-on-one matchups, we know we got that one. But we've got to worry about the other guys, too. It's unfortunate to have that kind of effort from Revis and come up short."