The Buffalo Bills gave Perry Fewell a seven-game audition when they named him interim coach.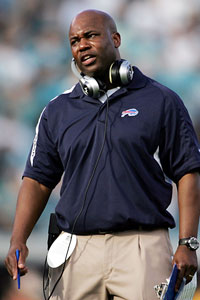 Marc Serota/Getty Images
The Bills have been very competitive under interim head coach Perry Fewell.About a third of the way into the tryout, I'd say Fewell is making a sound case to get the job permanently. I'm not saying Fewell is the best option, but there's no denying he has been impressive so far.
The Bills have been courting the upper echelon of available coaching candidates. They spoke to Mike Shanahan a week ago and reportedly have approached Jon Gruden, Bill Cowher and Mike Holmgren.
In the end, however, Fewell could be the guy.
Bills fans might be depressed with that idea compared to an A-lister with Super Bowl credentials, but the Bills have shown some fire under Fewell that was undetectable with Dick Jauron. They nearly defeated the Jacksonville Jaguars on the road in his debut. On Sunday, Fewell won his first game in Ralph Wilson Stadium, a 31-14 thumping of the surging Miami Dolphins.
The Bills have been fun to watch the past couple weeks. They've limited their past two opponents to a couple touchdowns apiece and are taking shots down field. J.P. Losman would be proud.
Perhaps not coincidentally, Ryan Fitzpatrick has connected with Terrell Owens on long scoring bombs. They hooked up for 98 yards in Jacksonville and hit on a 51-yarder to put a late dagger in the Dolphins.
I also liked the way Fewell ended the game with authority. Some might have viewed what he did as rubbing it in, amassing 17 points in the final 3:35 because Dolphins quarterback Chad Henne kept throwing interceptions.
But this wasn't like Pete Carroll going deep for a meaningless touchdown Saturday night against UCLA or even Bill Belichick trying to run it up against the New York Jets by having Tom Brady throw a bomb to Randy Moss last Sunday.
The Bills have been rummaging for sources of pride all year, and Fewell helped them find a healthy caché against a division opponent.
What the Bills told future opponents in those final few minutes is they're not on your schedule to be patsies anymore.