MIAMI -- Through five games, it's difficult to shrug off these stats as mere happenstance.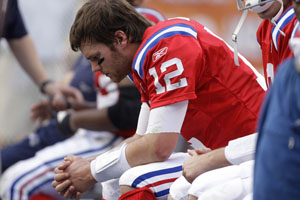 AP Photo/Lynne Sladky
Tom Brady's second-half performance against the Dolphins was dismal.Tom Brady's struggles in the second half of road games are a full-fledged trend, and a disconcerting one if you're a New England Patriots fan.
The Miami Dolphins made sure the Patriots remained winless in true road games, stunning them, 22-21, in Land Shark Stadium. Brady was nearly perfect through two quarters, but came up small again in the second half.
If the Patriots make the playoffs -- yes, I meant to type "if" -- and harbor any aspirations to last beyond a game or two, then they will need to beat good teams on the road once they get into the postseason.
That's the situation they're in, and Brady's performances on the road are a significant reason why.
Brady started the game ablaze, driving the Patriots to touchdowns on each of their first two drives. He went into halftime 13 of 14 for 196 yards and one touchdown with no interceptions.
In the second half, he completed six of his 15 attempts for 156 yards, one touchdown and two interceptions.
In New England's five true road games -- not counting the game they played in London against the Tampa Bay Buccaneers -- Brady has completed 52.9 percent of his attempts for 530 yards and two touchdowns with four interceptions for a 60.0 passer rating.
"I think we've played pretty inconsistent," Brady said. "We have some good drives, and then we have some bad drives. Everyone is trying to put their finger on it and really figure it out. It's frustrating for all of us.
"We certainly think when we go out there we have a lot of confidence that we're going to get the ball in the end zone. We had some good chances today inside the 5-yard line, the 10-yard line, and we get no points. That's the frustrating part for all of us."
Patriots coach Bill Belichick opted to go for it on fourth-and-1 from the Dolphins' 6-yard line rather than kick a field goal right before halftime. The Dolphins stopped them. Brady threw an interception in the end zone in the fourth quarter.