Maybe this is why Tom Brady was having so much trouble in the second half on the road.
And I'm not joking. I wish I would have explored this possibility sooner.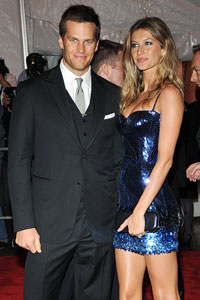 Kevin Mazur/Getty Images
Tom Brady and Gisele Bundchen reportedly welcomed a son sometime this week.People magazine has reported Brady's wife, superdupermodel Gisele Bundchen, has delivered a son. People didn't provide details of the birth, but it apparently happened since Sunday's loss to the Miami Dolphins in Land Shark Stadium.
It's not ridiculous to consider the stress of impending fatherhood was weighing on Brady, probably not in September, but in recent weeks, when he has been anything but Tom Terrific in the second halves of road games. In retrospect, he might have been more preoccupied with getting back home than with the task at hand.
Pshaw, you say. Tom Brady is a gamer. He wouldn't let something like that affect him.
Six years ago, I covered the Buffalo Sabres when captain Chris Drury -- one of the greatest competitors and clutch performers in any sport -- dealt with considerable anxiety while he wife was expecting.
Here's what I wrote after his daughter was born and the pressure evaporated:
Drury's stress level steadily grew, especially when the Sabres went on the road.
He had nightmares about missing the delivery. A member of the training staff kept Drury's cell phone on the bench during games just in case the moment arrived. There was a false alarm. There was a missed flight for a road game. There were practice interruptions.
Drury certainly didn't seem like himself on the ice. He continued to play hard, but he wasn't scoring goals.
Drury, a perennial 20-goal scorer from Boston University, went 19 games without a goal before the birth of his daughter. He scored the first game after she arrived.
"There is a personal weight off," Drury told me that night. "If you asked me a week or two weeks ago I would have said, 'I feel fine.' But the fact was it was on my mind a lot."