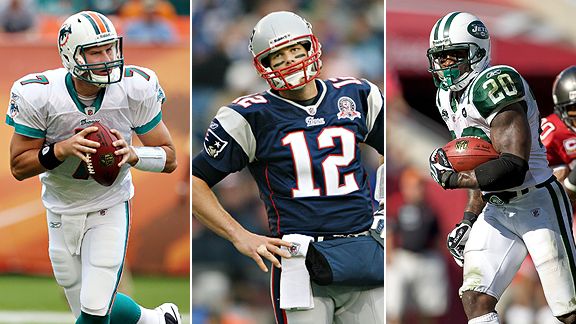 Getty Images
Miami's Chad Henne, left and Thomas Jones of the New York Jets are leading their respective teams in commanding ways right now, while Tom Brady and the New England Patriots are clearly struggling.
JACKSONVILLE, Fla. -- The Miami Dolphins bottomed out two weeks ago. They couldn't beat the Buffalo Bills. That was that. Grab the proverbial fork and ram it right in the Dolphins' sternums. They were done, out of the playoffs. Time to start planning for 2010.
Unbeknownst to the football universe at that time, the New England Patriots were on the verge of catastrophe -- by their standards anyway. They faltered. Rather than run away with the AFC East, the Patriots went to Land Shark Stadium last week and lost their third game in four tries.
All of a sudden, momentum turned. The Dolphins got back into the hunt. The Patriots appeared wounded, vulnerable.
Those movements continued Sunday.
The surging Dolphins won another game, while the Patriots played like Weebles. They didn't fall down, but the Patriots (8-5) sure did wobble while managing to stay one game ahead of the Dolphins and the New York Jets (each 7-6) with three games to go.
"Hope's a powerful emotion, and we have it," Dolphins general manager Jeff Ireland said after his team beat the Jacksonville Jaguars 14-10. "The other side of that is no hope and nothing to play for.
"Hope is a powerful emotion that enables you to do incredible things. And we got hope right now."
Hope isn't plentiful in New England. While the Patriots probably will make the playoffs, they don't project to last long.
The Patriots have instilled a general queasiness in their fans. They look nothing like the teams that won three Super Bowls and nearly went undefeated just two years ago.
They struggled on their own field to beat the Carolina Panthers, regaining their composure to finally put away an inferior opponent with a backup quarterback in a 20-10 white-knuckler. The game did little to quell anxieties surrounding the Patriots for the past few weeks.
Randy Moss was booed by his home crowd for an uninspiring effort that had Panthers players claiming afterward they made him quit. Moss finished with one reception, which he fumbled away after a 16-yard gain. He also gave up on a Tom Brady pass that was intercepted.
But Moss isn't alone in creating concern. Bill Belichick sent Gillette Stadium into a full cringe when he went for it on fourth down again and didn't convert. And there's still that matter of disgruntled outside linebacker Adalius Thomas, a healthy scratch for the second time this year.
The Dolphins, meanwhile, are on the make. The defending AFC East champs finally might have discovered themselves after an 0-3 start, a 3-5 record at the midpoint and that deplorable loss in Buffalo.
Despite the absences of top players in crucial positions -- quarterback Chad Pennington, top running back Ronnie Brown, center Jake Grove, nose tackle Jason Ferguson, No. 1 cornerback Will Allen -- they have a winning record for the first time.
While the Patriots exhibit shaky tendencies, the Dolphins and Jets are playing with conviction.
"You give this team some light, and our antennas go up," Dolphins nickel back Nate Jones said. "We fight our butts off to achieve a goal. We're in December. We're over .500.
"This team is really building something. We can kind of see we have a chance here to do something big. I love the look in all the guys' eyes when we go out to practice and come out for the game."
The Jets are finding their mojo, too, but it's probably not going to be enough. They won their third straight game with a 26-3 domination of the Tampa Bay Buccaneers. The Jets are tied with the Dolphins, Jaguars and Baltimore Ravens at 7-6.
But the Jets have an arduous schedule to come: Atlanta Falcons, at Indianapolis Colts, Cincinnati Bengals. The Dolphins, holding several tiebreakers thanks to their season sweep of the Jets, will face three more manageable teams: at Tennessee Titans, Houston Texans, Pittsburgh Steelers. The Patriots have the easiest remaining schedule of the three: at Bills, Jaguars, at Texans.
What made the Dolphins' victory impressive on Sunday was their ability to persevere.
They fumbled four times and committed three turnovers, but seemed to remain in control all the while. Chad Henne (17 consecutive completions) and Ricky Williams (108 rushing yards and a touchdown) generally kept the ball moving. The defense kept the Jaguars stalling.
Whereas the Patriots have made a habit of coming up empty in clutch situations -- failing to convert a fourth down in Indianapolis and Brady's late interception in Miami come to mind -- the Dolphins talk about a swelling belief they're going to make the play when it counts.
"If nobody expected anything out of us, then it wouldn't be worth playing," Dolphins left guard Justin Smiley said. "I'm thankful we have a resilient team, a team that fights.
"In the past we haven't done such a good job of finishing the fourth quarter. It looks like we're finally coming into our own. We need a sack at the end of the game? The defense is going to go get it.
"That's just amazing. It's just knowing your teammates and knowing the fight. It's pretty awesome to be a part of."