When Rex Ryan accepted the job as New York Jets head coach, he knew he had a great cornerback in Darrelle Revis.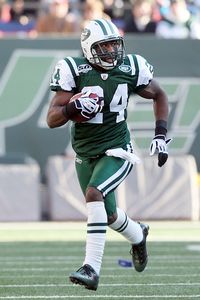 Jim McIsaac/Getty Images
Darrelle Revis has been one of the top defensive players in the NFL this season. "If he's not the NFL defensive player of the year, something is wrong with the system," coach Rex Ryan said.
Thirteen games later, Ryan couldn't contain himself from declaring just how special. Ryan on Thursday called Revis the NFL's best defender and claimed Revis has had a greater impact on his defense than a couple of icons Ryan coached with the Baltimore Ravens.
"Ray Lewis had the most impact I've ever been around of a guy that would lead a team and will a team," said Ryan, who was the Ravens' defensive coordinator before joining the Jets. "He was a tremendous player. But what we can do physically and how [Revis has] changed what we can play defensively, I think he's the guy.
"That's obviously not taking anything away from Ray Lewis and Ed Reed. I love those guys. There is no question, and they've won those awards. This guy right here [Revis], it's amazing what he can do. A corner to dominate a game the way this corner can is something."
Ryan also stated Revis should be a lock for NFL defensive player of the year for smothering the likes of Randy Moss (twice), Terrell Owens (twice), Andre Johnson, Marques Colston and Steve Smith.
Revis is the best player on the league's No. 1 defense.
"I was going to be subtle about this, but if he's not the NFL defensive player of the year, something is wrong with the system," Ryan said. "Nobody --- and I mean nobody -- in maybe the history of the game has had the challenges that he's faced week in and week out.
"You look at the top receivers in this game now that he's gone out and matched with and literally almost shut down. He's come up with six interceptions, but it's not about those numbers. Look at the passes that he's broken up. Look at the fact that he's out there on an island, one-on-one, and teams still can't throw that way. If they do, it's a mistake.
Revis leads the league in passes defensed. It's not an official NFL stat, but the league does compile the numbers taken from the weekly game books. By that count, Revis has 33 passes defensed, nine more than Cincinnati Bengals cornerback Leon Hall in second place.
Revis' six interceptions lead the Jets and are tied for fifth in the NFL.
"If there is one guy that I want to cover somebody, with my paycheck on it, I want it to be Darrelle Revis, period," Ryan said. "Not even close to the other guys that are mentioned. Nothing against the other guys that are mentioned, but it isn't close. I can promise you everyone in the league knows it."