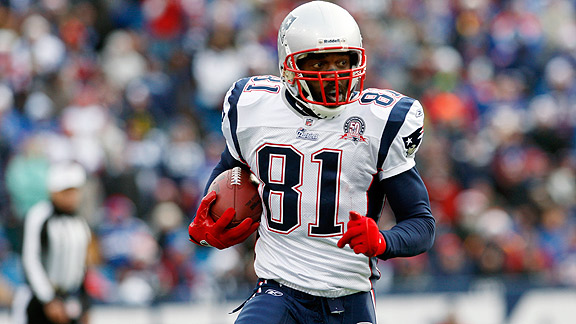 AP Photo/ David Duprey
Patriots receiver Randy Moss bounced back from criticism with five catches for 70 yards and a touchdown in a victory over the Bills Sunday.ORCHARD PARK, N.Y. -- Randy Moss breezed through a side door and began addressing reporters before he reached the microphone. So focused was he on making a statement, he tripped as he stepped onto the podium.
"I'm gonna make it real brief," Moss blurted shortly after the New England Patriots breathed in a therapeutic 17-10 victory over the Buffalo Bills. "Y'all had all two weeks to do all y'all's talking. Let me do mine."
Moss, in a black stocking cap and a natty trench coat over a designer suit, leaned his right elbow on the lectern for effect, like a judge about to lecture a defendant before sentencing.
"I'd like to really thank ..." Moss paused, stroked his beard and started again. "It's been really a tough couple of weeks, but you move on. That's the nature of the game. So I'm happy that we got this victory. I appreciate all the support from my true fans, the players, the coaches, my family and loved ones.
"I've been in this league 12 years, man, and I've been through a lot. And these shoulders that I have on my body, you can put the earth on it. So just to let you know, I bounce back. I appreciate it."
The gallery didn't ask a question. Moss bolted stage left and out the door.
In those 45 seconds, Moss didn't say much.
He didn't have to. He revealed plenty.
Moss was hurt by the onslaught of criticism he has faced over the previous dozen days, and Sunday provided deliverance.
Moss generated 113 yards for the Patriots and scored their first touchdown, a sweet tippy-toe grab in the back of the end zone. He finished with a game-high five receptions for 70 yards and drew another 43 yards on a Bills pass interference near the goal line.
"My father always said, 'Tall trees experience high winds,'" Patriots quarterback Tom Brady said. "He's been at the top for a long time. When it doesn't go right, that's just part of the profession.
"Randy's mature enough to handle that. He's a fighter, and he came out today and really made some great catches for us. Missed him on a couple of deep ones that certainly I wish we would have hit. But he was running his butt off today."
Moss had been called a quitter, a dog, a malcontent.
With the Patriots enduring three losses in four games, Patriots coach Bill Belichick booted Moss and three other players from Gillette Stadium on Dec. 9 for showing up late for a meeting.
Four days later against the Carolina Panthers, Moss caught one pass and fumbled it away, appeared to give less than full effort on a Brady interception and committed a false start. Panthers defensive backs Chris Gamble and Chris Harris proclaimed they made him submit.
A pair of future Hall of Fame receivers, Jerry Rice and Cris Carter, publicly ripped him as a lollygagger. We should have known, the media declared. He was trouble in Minnesota and Oakland. It was bound to happen in New England too.
A cancer, this guy.
Through it all, Moss said nothing. He had no answers, no words to defend himself.
Patriots owner Robert Kraft defended him. So did head coach Bill Belichick, who uncharacteristically took shots at Gamble and Harris as guys who haven't won enough games this year to have a credible opinion.
NFL Films analyst Greg Cosell and ESPN's Ron Jaworski and Merril Hoge -- with access to the sacred coaches' tapes -- were unanimous in their defense of Moss. They insisted he gave a high effort against the Panthers, but those voices didn't make nearly enough noise amid the condemnation.
A productive game would be Moss' only response.
The Patriots wanted him involved right away. They went deep to him twice -- and quickly. Brady fired a long ball too far down the left sideline on their sixth play. That pass interference chunk came on the first possession of the second quarter.
Despite facing the NFL's worst run defense, the Patriots wanted to help Moss prove a point.
"He's a competitor, and he wasn't happy with his performance the week before," Patriots receiver Wes Welker said. "He came out there and showed why he's one of the best to play the game. There's no doubt in my mind or anybody else's that he was going to bounce back from last week and have a great game."
Moss caught more flak than passes over his four previous games. He made six catches for 183 yards and two touchdowns. OK numbers for Chansi Stuckey or Josh Reed, not for one of the greatest receivers there ever was.
But on Sunday he came through. His afternoon wasn't prolific, but in sub-freezing conditions and with the Patriots desperately seeking their first true road win of the year, he made his presence felt.
Brady threw for only 115 yards. Laurence Maroney averaged 3.5 yards a carry.
Moss' shoulders didn't have to carry the earth Sunday, but he carried his offense again.
Atlas shrugged off the past two weeks.
"He always wants to prove something," Brady said. "He's a very competitive guy. The way he played today, he made some tough catches in traffic, made some nice catch-and-runs. He did a great job."