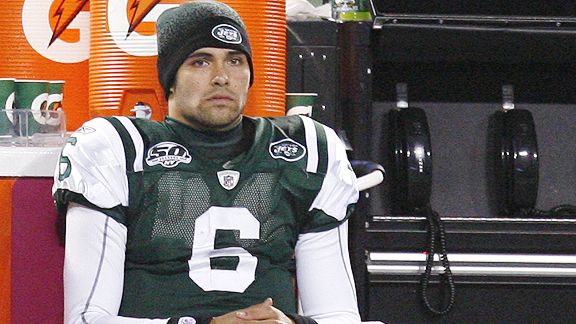 Andrew Mills/The Star-Ledger via US PRESSWIRE
Was making quarterback Mark Sanchez a full-time starter in his first season the right call by the Jets?
Soon enough, Rex Ryan will have been correct.
The rookie coach mistakenly said the New York Jets had been eliminated from the playoff race Sunday after crumbling to the Atlanta Falcons. Turns out, there still is a mathematical ray of hope.
For now.
The Jets sacrificed a season that appeared destined for the playoffs. They rank No. 1 in scoring defense, total defense and passing defense. They lead the NFL in rushing offense.
That sort of formula should have clinched a postseason berth by now.
Problem is, Mark Sanchez is part of the equation, too.
But was the Jets' decision to start Sanchez straight out of college complete rubbish?
The Jets threw away their season, but maybe it will have been worth it in the long run.
"When you're going to develop an outstanding quarterback, you're just going to have to bite the bullet and not look back," former St. Louis Rams head coach and offensive guru Mike Martz said.
The dilemma when it comes to rookie quarterbacks is whether it's more beneficial to put them in the huddle or to let them watch from the sidelines for a season.
"In the big picture, it's all a step in the right direction," said former Jets quarterback Ken O'Brien, who didn't take a snap his entire rookie season in 1983. "The best way to learn is to play."
That theory is not absolute.
"Some guys, like Peyton Manning or Troy Aikman, take that first-year beating, and it makes them better for the long run," Scouts Inc. analyst Matt Williamson said. "Some guys are not mentally strong enough to overcome a terrible rookie year, and the confidence can be shot."
The Jets seemed like geniuses three weeks into the season. They were 3-0, and Sanchez was performing beyond his years. The former University of Southern California star played as though he'd been in the league two or three years already, apparently turning what Matt Ryan and Joe Flacco achieved last year into a trend.
Since then, Sanchez's season has been spotted by a series of youthful indiscretions that ranged from immature (scarfing down a hot dog during a game) to reckless (injuring his knee while diving head-first three days after New York Yankees manager Joe Girardi taught him how to slide).
The hot start is a distant memory. Entering Week 16 against the Indianapolis Colts, the Jets are 7-7 and on the fringes of the playoff race.
The recurring theme, however, will be those interceptions. They came in big bunches. Three, four, sometimes five at a time.
Sanchez has thrown at least three interceptions in four of his 13 starts. The Jets went 0-4 in those games, losing by an average of 9.3 points. They dropped two of them at the Meadowlands by a field goal.
"There are times when he's looked great against complex schemes," said Jon Ritchie, an analyst for ESPN's "First Take" and former Oakland Raiders and Philadelphia Eagles fullback, "and there are times when he's looked confused out there. That's what everyone expected."
USC coach Pete Carroll was labeled a unappreciative whiner when Sanchez decided he would forego his senior season and enter the draft.
Carroll claimed Sanchez wasn't ready. Sanchez started one full season, and while he posted remarkable numbers, he would head to the NFL with only 16 collegiate starts. The learning curve would be one harsh arc.
The Jets traded up to draft Sanchez fifth overall and make him the face of the franchise. He would have to fall flat on his facemask to not win the job from veteran Kellen Clemens in training camp. Sanchez signed a five-year contract, which also escalated his timetable. Six years is the common length of a highly drafted quarterback's first deal.
"It's a tough situation for anybody to come in right out of college, where you didn't play much, and plug in," O'Brien said. "It just takes time."
What has been troubling about Sanchez's development is that Ryan and offensive coordinator Brian Schottenheimer have needed to simplify it as the season has progressed. Ryan, who is dyslexic, applied one his own comprehension tricks and color-coded Sanchez's play-calling wristband to underscore the importance of ball security.
"He doesn't seem to be learning from his mistakes or getting better in any way," Williamson said. "He still really doesn't understand coverages or the speed of the game at this level. He isn't seeing things clearly and is either very rushed or too slow in everything he does."
Martz and O'Brien insisted Sanchez will come around.
Martz stressed the importance of the Jets acquiring more help for Sanchez at receiver and spending a lot of time working together during his first full NFL offseason. Dropping top receiver Braylon Edwards into Sanchez' lap in Week 5 didn't do him any favors.
"There's a little bit of a disconnect with them, which is understandable," said Martz, who 10 years ago in St. Louis ran the record-setting offense dubbed "The Greatest Show on Turf."
"That rapport and that chemistry, it takes a long time to develop. I don't think people realize how difficult that is. There's thousands of throws that need to happen."
Sanchez has been one of the NFL's worst play-action passers. He ranks 27th in the NFL with a 58.8 play-action passer rating, completing 52 percent of his throws with three touchdowns and seven interceptions.
"It's just a matter of repetition," O'Brien said. "It's a lot more beneficial to watching yourself on film and having recall of which decisions to make. You can figure out 'This is what I did last time and I was knucklehead. Let's forget about that.'
"You store it all away. Your mind becomes a vault. You have to click through all those pictures, that video game in your head and dial in that right formula the next time you come across it."
As for the toll a disappointing first season can have, jangled confidence shouldn't be an issue with Sanchez. His leadership intangibles might be what carry him.
"The good players, they have such a deep-seated belief in themselves that they might be shaken a bit," Martz said, "but they just can't be moved off the mark. He's got too much going."
Teammates recognize that. Ritchie, who went to the playoffs with Rich Gannon and Donovan McNabb, noted the guys in the locker room are willing to forgive mistakes and weigh the future benefits when they see a young quarterback committing himself at the facility, whether it be on the practice field or in the film room.
"Guys know that he's putting in all the time in and that he is sacrificing to do everything that he can to get better," Ritchie said. "He's a guy you love to have on your team and will be much improved. That rookie wall hits everyone, and you come to the conclusion that he's hit that.
"But a guy that has such an unbelievable attitude, positivity surround him all the time, can lead a group of men who have been playing in the league just with his sheer charisma. That played into their decision and I can't fault them there."
So don't be so anxious about throwing away this season, Jets fans.
When we look back on 2009, Sanchez will have junked the Jets' chance to make the playoffs. But Sanchez's long-term future might turn out to be worth forfeiting the postseason.
"He'll be so much better next year," Martz said. "It was absolutely the right thing to do. That team will evolve with him."