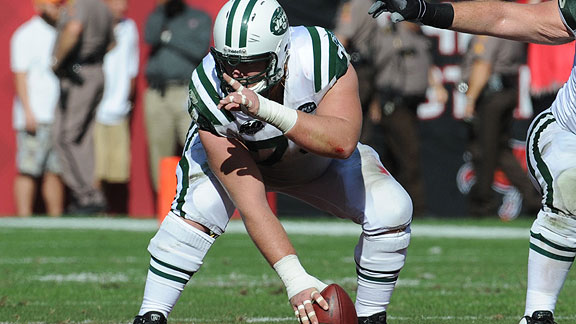 Al Messerschmidt/Getty Images
According to his teammates, Jets center Nick Mangold should do all his talking on the field.FLORHAM PARK, N.J. -- When I entered the New York Jets' locker room on Wednesday and started asking players about center Nick Mangold, the warnings were clear.
Don't bother talking to Mangold. Save yourself the trouble.
"He loves to tell stories," said Brandon Moore, the guard who lines up to Mangold's right. "He's horrible at them."
Turns out Mangold is long-winded, tedious, awkward and, in the end, simply doesn't deliver.
"We always make it a point in our meeting room that when you tell a story, you better get to the punch line quick or we'll start clowning you," Jets right tackle Damien Woody said. "Everybody else knows how tell a story except him.
"He just drags it on and on. We'll make sleepy sounds or somebody will yell 'Next!' Come on, you're on the clock."
That's what stands out about Mangold's personality off the field.
So what makes him such an outstanding center?
"Now, that's a different story," Woody said, changing from a playful demeanor to a serious one. "He's the best center in the league. There's no disputing that."
Mangold is boringly great. He's in his fourth NFL season and already has been selected to a pair of Pro Bowls. He was voted All-Pro this season.
He's the anchor of an offensive line that paved the way for the NFL's top-rated run offense -- which starts its league-leading 35th straight game together when the Jets play the Indianapolis Colts on Sunday afternoon in the AFC Championship Game.
"He might just be the best offensive lineman in the entire league -- at least in the top five," Scouts Inc. analyst Matt Williamson said. "He just keeps getting better."
Jets fullback Tony Richardson called Mangold "a technician." Mangold is universally regarded as one of the most intelligent players in the game, and was able to recognize complicated NFL defensive schemes almost from the moment he came out of Ohio State with the 29th overall pick in 2006.
Unlike his stories, he's never off balance. He takes precise blocking angles. He's versatile enough to lock up with elite defensive tackles, skedaddle outside for help on the edge or hit a moving target downfield.
Williamson pointed out Mangold has an unusual body type for a center. He is listed at 6-foot-4, which is tall for a center. But he's so adept at leveraging his 305-pound frame underneath a defender that his height is never an issue, while his long arms make him extra tricky to circumvent.
"Mangold not only can play with power, but he can play with athletic ability and quickness," Williamson said. "It seems like just about every other center in the league is either a power guy or a finesse guy. Mangold is both. Overall, he's a stud."
Alan Faneca, the perennial Pro Bowl left guard, and Jets offensive coordinator Brian Schottenheimer both consider Mangold a boon for the line because he can handle assignments -- even somebody as dangerous as New England Patriots nose tackle Vince Wilfork -- by himself.
Faneca agreed with the idea Mangold was the offense's version of Darrelle Revis, the type of player who can eliminate the opponent in front of him and reduce the game to 10 on 10.
"He makes all of our lives easier," Faneca said. "Some of the things that he's able to do, we're able to leave him alone. A lot of centers in this league might need a little help, might need a nudge. He's the kind of guy that allows us to work different combinations. It's big-time."
Jets linebacker Bart Scott recently said Mangold was the best center he's seen, listing names that included Kevin Mawae, Matt Birk and Jeff Saturday.
"He's special," Richardson said. "Our offensive line has been phenomenal across the board. Looking at Nick, he's like having a quarterback on your offensive line."
Based solely on what his teammates said about Mangold's inept interpersonal communication skills, it might have been surprising to watch him hold court with reporters all week in front of his locker stall.
But he's obviously comfortable talking about the game, his coaches, his teammates and the upcoming opponent. He speaks on those subjects much more freely than himself.
The only way to extract a comment about how well things have been going for him is when he speaks within the context of the entire offensive line, which produced three Pro Bowlers this season: Mangold, Faneca and left tackle D'Brickashaw Ferguson.
"When we first got together back in March, one of the things that was told to us was we were going to be one of the most physical teams out there," Mangold said. "That's helped in a big way of us being able to do the things we're able to do.
"When you watch our running backs get through the line and just pound on safeties and linebackers, you can feel it. It's a great feeling after you get the win, knowing you just physically beat somebody up out there."
If the Jets' offensive line can punish the Colts' soft run defense this week, then maybe Mangold and his mates will be off to Miami -- not to play in next weekend's Pro Bowl, but in the Super Bowl the week after.
That would be a Mangold story worth listening to.