Reports out of South Florida -- and a radio station in Bakersfield, Calif. -- suggest Joey Porter won't be with the Miami Dolphins in 2010.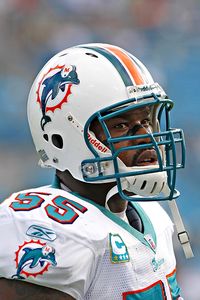 Kim Klement/US Presswire
Joey Porter's career with the Dolphins might be coming to an end.South Florida Sun-Sentinel columnist Ethan J. Skolnick and Miami Herald columnist Armando Salguero have provided behind-the-scenes looks at a mutual dissatisfaction between Porter and the club.
Porter had a rocky campaign after leading the AFC in sacks in 2008. He battled a hamstring injury, was suspended a game by head coach Tony Sparano for disciplinary reasons and saw his playing time dwindle.
Skolnick, citing unnamed team sources that included teammates, writes:
The general consensus is that his potential on-field contributions no longer outweigh the other stuff that he brings.
My understanding, from these conversations, is that Porter had a habit of sending players off the field who had been sent in to take his spot, especially on third down ... even after he was suspended for the Tampa Bay game. During that game, if you recall, Charlie Anderson had two sacks, Cameron Wake had one, and Jason Taylor had an interception."
Salguero's piece outlines the seasonal exit interview Porter had with Sparano. Salguero writes Porter took umbrage with several issues and mentions an interview Porter did last week on his hometown radio station.
The enigmatic linebacker told the show host that he didn't want to return to the Dolphins in 2010. He repeated the complaints he made to Sparano -- that he wasn't happy with his role, that he wasn't happy about being benched.
Porter had nine sacks, a respectable number, but only 1.5 more than reserve outside linebackers Wake and Anderson had. Half of Porter's total came in two games.
He failed to record a sack in eight games and didn't make a single tackle in three games, most memorably against New England Patriots rookie Sebastian Vollmer in Week 9. That was just days after Porter accused the NFL of showing quarterback Tom Brady preferential treatment and declared the Patriots' championships should be affixed with asterisks because of the Spygate scandal.