Will the Cincinnati Bengals reach a long-term contract extension with coach Marvin Lewis before his deal runs out in 2010?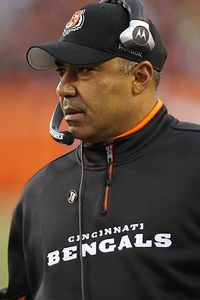 Frank Victores-US PRESSWIRE
Bengals coach Marvin Lewis is only signed through 2010.Contract extension or no contract extension?
It's somewhat bizarre that Lewis, in the final year of his contract, hasn't had his deal extended.
According to the 2009 NFL Coach of the Year, the Bengals approached him twice -- once in October and once in January -- about working out a new deal. Yet, both times the sides failed to reach an agreement.
Cincinnati's willingness to come to the negotiating table makes it clear the Bengals are interested in keeping Lewis beyond the 2010 season. But there is an interesting power struggle going on in Cincinnati behind the scenes.
The Bengals do not have a traditional front-office setup. It's been a constant battle over the years between Lewis, his coaching staff and team ownership, led by Mike Brown, over personnel decisions, philosophies and how to maintain a winning culture.
Lewis arguably had the best season of his career in 2009, which should provide leverage. But Brown is known as a very tough negotiator, which has led to this current standstill.
The AFC North blog talked to several league insiders at the NFL combine about this topic, and a majority believe Lewis would be a valued commodity if he became a coaching free agent next offseason.