Falling
1. Pittsburgh Steelers: There are very few people, including the Steelers themselves, who are not shocked by the team's dramatic fall from 6-2 to 6-7. Pittsburgh hit its lowest point of the season with a 13-6 loss to the Cleveland Browns, which probably knocked the Steelers out of the postseason.
Leaks are springing up everywhere. Sometimes Pittsburgh's offense can't score. Other times it's the defense not getting key stops. Special teams coverage also is an issue.
Former NFL head coach Herm Edwards recently questioned Pittsburgh's "want to" and effort. It will be interesting to see how the reigning Super Bowl champions fight the rest of the season, despite probably being home in mid-January.
2. Bruce Arians, Steelers offensive coordinator: Arians has been criticized locally for quite some time, and I have been one of the last media members to pile on, mostly because the unit did enough to win a Super Bowl last season. But the lack of balance and passes on third-and-short can be baffling at times.
Pittsburgh's offense is not performing poorly. Some may be surprised that it entered Week 14 in the top 10. But this time of year when the weather impacts the passing game, it's time for the Steelers pound the ball with their budding, young tailback Rashard Mendenhall, whose numbers (948 yards, 4.8 yards per carry) are screaming for more opportunities.
3. Cincinnati Bengals passing game: The Bengals have quietly flown under the radar, winning this year without beating teams with the deep ball. But as the season has gone on, it's becoming clear this potential weakness could be costly.
Cincinnati is physical. But the Bengals will not be able to line up and pound everyone into submission, particularly against quality playoff teams. Cincinnati found that out Sunday during a 30-10 loss to the Minnesota Vikings (11-2).
Regardless of whom the Bengals face in the postseason, there may be a time when giving the ball 30-plus times to tailback Cedric Benson might not be enough offense. Quarterback Carson Palmer and the Bengals will need to re-establish a vertical passing game to provide balance.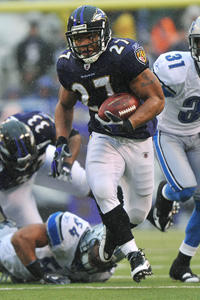 Larry French/Getty Images
Ravens tailback Ray Rice rushed for 166 yards in a key win for Baltimore.Rising
1. Baltimore Ravens offense: It was a fun day to play offense for the Ravens. Nearly everyone got in the act during a 48-3 victory over the Detroit Lions.
The Ravens set a new season high in total yards with 548. Perhaps most stunning is that 308 of those yards came on the ground.
With losses by the Denver Broncos (8-5) and Jacksonville Jaguars (7-6), Baltimore (7-6) is in the thick of the AFC wild-card race. With more performances like this from the offense, the Ravens will have a good shot at the postseason.
2. Ray Rice, Ravens tailback: The tailback leading that ground attack for Baltimore was second-year player Rice. He recorded 166 yards on 13 carries for a 12.8 yard average. He also had one touchdown and 53 receiving yards.
Rice eclipsed the 1,000-yard mark for the first time in his career. He has shown he can carry the load and is versatile enough to lead Baltimore in receiving.
3. Joshua Cribbs, Browns returner: If Cribbs wasn't playing for a 2-11 team, he would get a lot more credit for being such a dynamic player.
Cribbs got a chance to show a national audience what he could do by recording 200 total yards in a victory over the Steelers. He was Cleveland's best weapon on offense and special teams as Pittsburgh had no answer for him.
It's clear at this point that Cribbs deserves a new contract. He is one of the few players on the Browns the team can surely build around going forward.