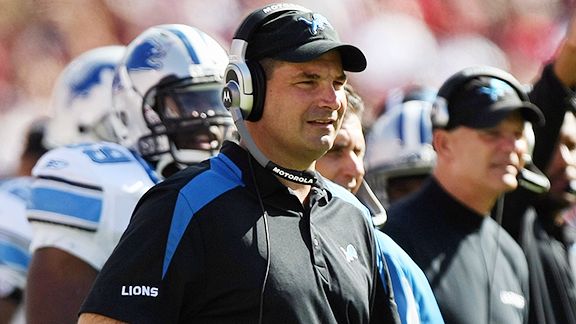 Jed Jacobsohn/Getty Images
Joe Cullen is back in the NFL, bringing energy and high-decibel levels as a member of the defensive coaching staff.
JACKSONVILLE, Fla. -- The volume's been turned up to 11 over at the defensive line area of the Jaguars' practice.
Joe Cullen prowls and hollers, prods and hoorays as he pushes a revamped group that's expected to revitalize Jacksonville's defense.
Last year's 14 sacks were the fifth-worst total in the league since it started keeping sack stats in 1982. Enter Cullen, a once successful coach in Detroit who made national headlines for passing through a drive-through naked, a stunt that ultimately landed him out of the league.
Now he's been given a second chance as well as the first four picks of the Jaguars' draft and a veteran rusher in free-agent addition Aaron Kampman.
The Jaguars didn't do much behind that line. Veteran linebacker Kirk Morrison, acquired in a trade with Oakland, is the only real notable addition. A better pass rush, they say repeatedly, will do much to cure other ills like those at safety.
As Cullen had each lineman weave through four tackling dummies at minicamp practices that wrap up Monday, clubbing and ripping each one before turning left and flattening a fake quarterback, he left little unsaid.
"It's time to get double-digit sacks around here Harv," he bellowed to end Derrick Harvey, the team's top draft pick in 2008. "Not four sacks. That's what you were brought here to do: Rush."
He urged "tempo, tempo" and his assistant, Ben Albert reminded the troops: "We've got to reclaim the line of scrimmage."
"I think this is a great group they've given me to work with," Cullen said. "…It all starts up front. Basically the organization and the team is depending on us to lead the team, to lead the troops."
Two veteran linemen, newcomer Kampman and Reggie Hayward who came here in 2005, both love Cullen so far.
"I love his passion," said Kampman, the former Green Bay star. "The position is so much about relentlessness, tenacity and obviously those are some of his strong characteristics as a coach. He knows a lot about rushing the quarterback. He's learned from a lot of great guys in his career and one thing I've learned is you always look at the pedigree."
Those influences include Chicago defensive coordinator Rod Marinelli and Indianapolis defensive line coach John Teerlinck.
Said Hayward: "[Cullen's] whole motto is to work hard, to go after it. He's an intense little guy from upper New York or Jersey or somewhere. He says 'tonic' and not 'soda' and he's a little fireball. That's what you need, man. I think he's perfect for what we've got going on."
"The identity of the D-line is going to be hard work. We may not be as big as John Henderson or Marcus Stroud. But most of the time making plays is just effort. Do you give up? Or do you continue to work?"
The Jaguars hired Cullen in January with the blessing of commissioner Roger Goodell.
The quick recap of his fall: Cullen drove through a suburban Detroit Wendy's naked in 2006 -- a scene later revisited through a Jon Kitna Halloween costume. Cullen was arrested for that and separately for a DUI, incidents that led to a suspension for one game by the team, another game by the league and a fine of $20,000 for conduct detrimental to the league.
The two cases resulted in fines and 10 days of community service as well as a judge's order to attend outpatient treatment and Alcoholics Anonymous meetings.
"Motivated guys are great, right?" asked head coach Jack Del Rio. "Players or coaches, that's what you want… I know Joe's very hungry for an opportunity, when he's been in the league and the line's he's worked with he's done a nice job with and I think he's very thankful for a second shot."
"All I know is that there isn't a single one of us that's perfect, I know I'm not," Kampman said. "This profession obviously puts you in a fishbowl and the great thing is that I know he's addressed it with the group and is moving forward. Each and every one of us needs to be about redemption."
Cullen started off our chat with an emphasis on how grateful he is to owner Wayne Weaver, GM Gene Smith and Del Rio for the second chance.
In three seasons in the same post in Detroit, he had pretty good line play on pretty bad teams. In 2007 the Lions jumped from 24th to ninth in the NFL in sacks, and the defensive line accounted for 28.5, seventh-most in the league.
But he was exiled in 2009 when the Lions started over with a new coaching staff. He spent the year as an assistant at Idaho State.
He and his 2010 draft class will get a lot of attention this year. His rookie pupils include tackle Tyson Alualu, the 10th overall pick from Cal, third-round tackle D'Anthony Smith and fifth-round ends Larry Hart and Austen Lane.
"They're very talented, they're very gifted," Hayward said. "This is the time for someone to say, 'Hey, we've got a lot at stake here. Now do you want to mess it up by being a goof off or do something special?'"
Cullen isn't so much worried about quantity as quality in the sack department. He said he craves "impact sacks," the kind that come with strips or turn field position at a crucial spot in a game.
The defensive line won't be judged on sacks and can affect games in many more ways, Smith said.
"I think it's about making the quarterback move," Smith said. "You'd like to get him down a lot. But you make him move, most quarterbacks who can't set their feet to throw, cannot throw the ball accurately. So you get opportunities for more pass break-ups, for interceptions and you certainly get opportunities to get off the field with an incompletion."
Cullen's hardly set modest goals, especially considering it's a team with one very big star in running back Maurice Jones-Drew.
"We're going to be the face of the organization and really be the group that creates a relentless attitude about getting to where we want to be," he said. "So we've got to not just be good, we've got to be great in everything we do."