The Indianapolis Colts' running game could use improvement. I really don't have issue with Indianapolis' ball carriers, and I expect halfback Donald Brown to improve noticeably in Year 2. Still, the Colts' run-blocking must improve.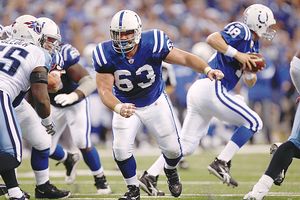 Scott Boehm/Getty Images
Colts center Jeff Saturday is the best among a subpar group of run-blockers.Indianapolis' offense operates pretty much exclusively from 31 (3 WR/1 TE/1 RB) or 22 (2 WR/ 2 TE/1 RB) personnel schemes. Obviously that doesn't leave room for a fullback.
The Colts' tight ends -- most noticeably Dallas Clark -- are more wide receivers than they are inline hammer blockers. In fact, all of the Colts' holdover tight ends are subpar blockers in the run game, which is a reason they used a fifth-round pick on Brody Eldridge. The former Oklahoma Sooner is widely regarded as one of the best blocking tight ends out of the 2010 draft. If he works out as planned, Eldridge also will help in pass protection on the edge, but his role should be more in the run game, specifically in short-yardage situations.
With these personnel groupings, it also should be noted the Colts get little blocking from their wide receivers. Receiver blocks down field are a major reason why many backs are able to break long runs. Halfbacks Joseph Addai and Brown don't benefit from such downfield blocking.
While the front five doesn't get much help from the peripheral blockers, the offensive line must improve in opening holes in the run game as well. Fearing the Colts' lethal passing game, many defenses are unable to dedicate extra defenders near the line of scrimmage. The Colts' running game needs to exploit that.
After being released by the Colts, guard Ryan Lilja is now a member of the Kansas City Chiefs. Considering that Lilja might have been Indianapolis' top run blocker last season, I don't understand why the Colts released him. Otherwise, the line remains pretty much intact -- for better or worse. The left side of the line should be of particular concern.
The Colts have to find a replacement for departed left guard Lilja, and left tackle Charlie Johnson might be moved to another position. Right tackle Ryan Diem and center Jeff Saturday are probably the Colts best run blockers. Right guard Kyle DeVan has come a long way since he was playing in Arena Football's minor league this time a year ago, but still has a ways to go.
The Colts don't need great production from their rushing attack, but a great offense would be far more potent with a consistent threat. It would open play-action passing, devour the clock and wear down defenses. A consistent running game would give quarterback Peyton Manning more comfort when switching to run plays when needed. Now, Colts' opponents do not respect the run.
Even Manning's deep passing abilities have been compromised of late, which can be attributed to less of a threat in the play- action game and lesser play from the Colts' offensive line. I understand how few sacks that Indianapolis allowed in 2009, but I also think the majority of that is due to Manning's rare pocket presence. The Colts' play calling also recognizes that this pass-blocking unit was unable to consistently hold up on long routes.
All of this said, only six offenses scored more points than Indianapolis last season. Averaging a measly 3.5 yards-per-rushing attempt (second-worst in the league), is obviously a problem. Still, you might recall the Colts managed to have a pretty decent season despite their poor run game.