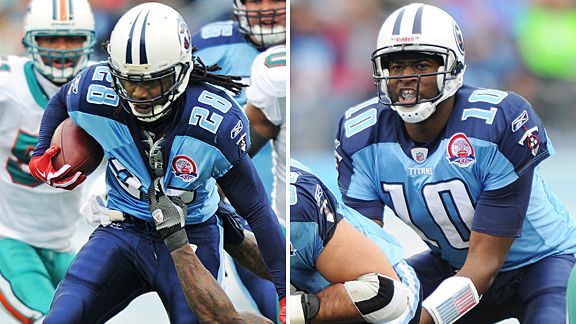 US Presswire
Chris Johnson and Vince Young have resurrected Tennessee's hope for a playoff berth.NASHVILLE, Tenn. -- They have two more games to win and need a heaping portion of assistance to clinch a playoff spot.
Still, the Tennessee Titans' climb from 0-6 to 7-7 has been an impressive journey engineered by a quarterback-running back tandem that might be the most electric, dynamic duo in the NFL.
"I'll take our quarterback-running back combination any day," said Titans defensive end Kyle Vanden Bosch after Tennessee's 27-24 overtime win over Miami at LP Field. "We've been doing some good things on defense, today we did some good things on special teams. But VY and CJ have been carrying this team."
There is no lack of competition for Vince Young and Chris Johnson in any debate on the topic and no clear winner: Solid cases can be made for Brett Favre-Adrian Peterson, Peyton Manning-Joseph Addai, Philip Rivers-LaDainian Tomlinson, Carson Palmer-Cedric Benson, Drew Brees-and whichever running back the Saints have going and Matt Ryan-Michael Turner when they are healthy. All are contenders to me.
But in the case of each of those pairs, we've seen the best of at least one of the tandem, haven't we? Young and Johnson both can, and will, play better. And 14 games into their first season of extensive work together, they both appear freshly topped off with rocket fuel.
"I have great confidence," Johnson said. "So I feel like we're the best tandem."
Sunday's combined effort was excellent, though the Titans' defense tried to undo it and made for a much more complicated ending than should have been necessary.
Young had the first three-touchdown game of his career, completing 14 of 27 passes for 236 yards. A bobbled ball got intercepted early. He also ran twice for 24 yards, though he has knee and hamstring issues and got out of danger ASAP.
Of all the areas in which he's showed significant improvement since taking over as the starter on Nov. 1 -- maturity, resiliency, decision-making, defense-reading -- none has impressed or surprised me more than his touch.
It was not long ago that he regularly threw screen passes at his target's feet or over their heads. Now he is putting balls in small windows, with just the right arc, right pace and to the right effect.
Justin Gage was well covered on his first touchdown catch, a 22-yard ball that dropped neatly over the head of Gibril Wilson and arrived just before Nathan Jones. Gage was covered even better than that on his second scoring reception, a 21-yard pass that beat the tight marking of rookie Vontae Davis.
"I don't want to play [Young] in darts right now, because he's putting the ball on the money," tight end Alge Crumpler said. "…It all started with Vince putting the ball exactly where it needed to be so that only our guys could make a play on the ball."
Offensive coordinator Mike Heimerdinger has attributed the heightened accuracy and touch to Young's feet and to him holding the ball closer to his body as he surveys the field. Young echoed that when asked about it after beating the Dolphins.
"It's all about knowing where your guy's at and preparation," Young said. "It's not always about the arm, it's the lower body, the core, something I've worked on a lot. That's something Heimerdinger's preached to me. Make sure your feet are set, are underneath you.
"…I really feel like that's how defenses are going to play us, try to take CJ away and make me win the game with my arm."
Johnson topped 100 yards rushing for the ninth consecutive game, with 29 carries for 104 yards against a physical defense hell-bent on slowing him. He also had two catches for 55 yards.
His 41-yard catch and run on a screen might have been a 71-yard TD if Johnson hadn't slowed to see if leading offensive lineman Eugene Amano would be able to throw a block on Wilson, who ultimately dragged him down.
The league's leading running back needs 270 yards for 2,000 and still intends to get there.
"You never know what type of game I'll have," he said, emphasizing that wins are more important. "I might have a 200-, 300-yard game."
"We talk about it," veteran center Kevin Mawae said. "We'll know how many more yards we need to get to 2,000. It would be a great accomplishment for him, for this team and for the offensive line."
Marshall Faulk's NFL record for scrimmage yards is in even better range. Faulk went for 2,429 yards in 1999. Johnson's at 2,176 and his current pace would get him to 2,487.
Johnson wasn't with the team in 2006, but Young put together an offensive rookie of the year campaign after an 0-5 start.
Those Titans went into the final Sunday needing three results elsewhere plus a home win over New England to make the playoffs. The Steelers, Chiefs and Niners all gave them the assists, but they lost to the Patriots 40-23 and finished 8-8.
Titans coach Jeff Fisher has offered reminders of that, as well as some predictions -- forecasts that Young said must remain confidential.
Tennessee hosts San Diego Christmas night and finishes in Seattle. To do their part, the Titans know they'll have to get vintage Young and Johnson performances as the two continue to create defensive nightmares.
"We'll focus on winning and I'll let my mom pray for everybody else to lose," Crumpler said. "It keeps working that way."