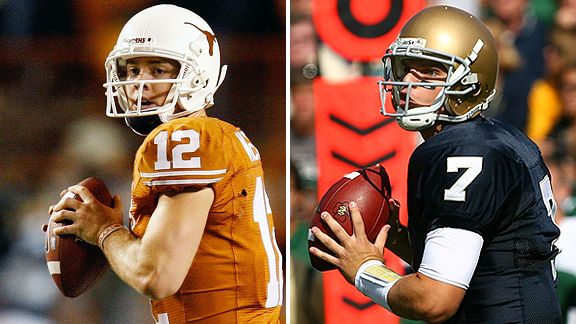 Getty Images
The Oakland Raiders had the opportunity to draft quarterbacks Colt McCoy and Jimmy Clausen, but passed on both.
Keep getting in shape, JaMarcus Russell. It appears you will be getting another chance.
Unless Jason Campbell ends up in Oakland -- and is he really a long-term answer? -- it appears the Raiders are comfortable moving ahead with their current group of quarterbacks for the time being.
To me, the lack of attention the Raiders gave two big-time quarterback prospects Friday night is the story of the second and third rounds in the AFC West.
The Raiders saw both Jimmy Clausen and Colt McCoy fall into their laps. And they swatted the two youngsters away, ignoring a huge issue. The Raiders have other needs and it wouldn't have bothered me if they entered the draft with the idea of not taking a quarterback early.
But when two potential starters like Clausen and McCoy fall, you have to adjust. Oakland didn't.
The Raiders did a terrific job of landing star-in-waiting middle linebacker Rolando McClain at No. 8 on Thursday night. They then traded down from No. 39 to No. 42 to No. 44 in the second round to compile a couple of late-round choices. The Raiders took Texas defensive tackle Lamarr Houston at No. 44. No complaints. He is a run-stuffer and he fills a need. He'll team nicely with McClain as Oakland tries to stop being a sieve against the run.
But Clausen was sitting there at No. 44. It could have been a nice gift for Oakland to take the Notre Dame product, who appears to be pro-ready. He went later in the second round to Carolina.
In the third round, Oakland addressed its biggest need with tackle Jared Veldheer from tiny Hillsdale College. He is an interesting prospect. He could be good, but he is not going to help right away.
A play for McCoy at No. 69 could have been worth the risk.
Yes, I get that McCoy is small and he doesn't have a cannon arm. But guess what? That's exactly the book on Bruce Gradkowski, who is currently Oakland's most exciting option.
I know Al Davis loves rocket-armed quarterbacks, but that's what got him this mess with Russell. Winning quarterbacks don't have to have big arms.
The Raiders need to do something. Why didn't they take a shot at Clausen or McCoy? Both players would have been freebies because they weren't expected to be on the board.
Oakland looked into quarterbacks this offseason. They have been linked to Donovan McNabb, Ben Roethlisberger, Campbell and even Sage Rosenfels. Perhaps Oakland will make a play for Campbell, whether he is traded for a late draft pick or if he is released by Washington. But he doesn't create excitement for the future.
You can't blame Oakland for looking. Russell has been a disaster. Gradkowski is a short-term answer at best. Charlie Frye and Kyle Boller don't exactly stir confidence either.
As of now, it looks like Oakland will actually go to camp with Russell and Gradkowski fighting for the starting job. The Raiders are ready to give Russell one more chance. We all know what is going to happen. Gradkowski will outplay Russell in the preseason and the offense will perform better with Gradkowski than Russell, as was the case last year. Russell will prove he is a failure and the Raiders will have to look for a franchise quarterback in next year's draft. By the way, the Raiders don't have a first-round pick in next year's draft.
They could have given themselves a crack at one this year for a cheap price in the form of Clausen or McCoy, who went late in the third round to Cleveland.
Oakland could very well take a quarterback with one of its six picks in the final four rounds. The team likes players such as Mike Kafka of Northwestern and Jonathan Crompton of Tennessee. Both are long-term projects.
There are no easy answers. That's why Clausen and McCoy should have been looked at.