Will Chiefs wide receiver Dwayne Bowe bounce back from a rough season?
Theoretically, Bowe is one of the better young receivers in the NFL. But he has to show it again.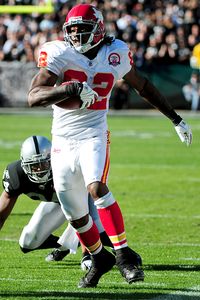 Kyle Terada/US Presswire
Kansas City wide receiver Dwayne Bowe didn't perform to expectations last season.Bowe had a miserable season last year, his first under new coach Todd Haley. Bowe quickly got in Haley's doghouse when he showed up heavy for offseason camps. Then he dropped so many passes and was so lackadaisical in training camp he was temporarily dropped to third string. During the season, he was suspended for four games for using a banned substance.
Bowe had only 47 catches and four touchdowns last season. The Chiefs' top pick in 2007 had a total of 156 catches and 12 touchdowns in his first two seasons.
The new Kansas City brass has been impatient with holdovers who have not adjusted. Still, even though he's tough on Bowe, I get the feeling Haley believes in him. Haley knows that Bowe can be the team's best receiver. But Bowe has to show it.
His 2010 season has gotten off to a rocky start. He dropped some passes in the OTA practices last week. He also caused waves when he told a story to ESPN The Magazine about veteran players bringing women to the team hotel the night before a game.
This could cause issues for him with some of his teammates.
But the biggest issue, I believe, for the Kansas City staff is if Bowe can keep straight and become the player he was in his first two seasons. He has the talent to do it.
If he struggles again, this probably will be his final season in Kansas City.