NEW ENGLAND PATRIOTS
Last season: 12-4
First place, AFC East
Lost to Denver Broncos in AFC Championship Game
Cardinals reporter Josh Weinfuss and Patriots reporter Mike Reiss take an in-depth look at Sunday night's matchup between the Arizona Cardinals and New England Patriots in a battle of the two conference championship game losers.
Of the lasting images of the Patriots' 2015 season was quarterback Tom Brady being battered by the relentless Denver Broncos defense in the AFC Championship Game, as he absorbed 17 hits. Still, he almost valiantly led New England to a comeback victory.
The 20-18 loss dashed the team's hopes for back-to-back Super Bowl victories, setting the stage for an offseason in which Brady would take one more crunching hit: a four-game NFL suspension upheld in court for Deflategate.
As the 2016 regular season is set to open, third-year quarterback Jimmy Garoppolo is thrust into the spotlight: His charge is to keep the team afloat until Brady's return to action on Oct. 9 in Cleveland. As a reminder of the less-than-ideal situation, the defiant Patriots have erected a large mural of Brady on the lighthouse at Gillette Stadium, with his No. 12 at the top.
"I wish him the very best, obviously, for our team, for him personally," Brady said before the suspension officially began Sept. 3. "It will be tough to watch, but I'll be excited to watch and excited to learn, and then hopefully when I come back in October, I'll be a better player than I am today."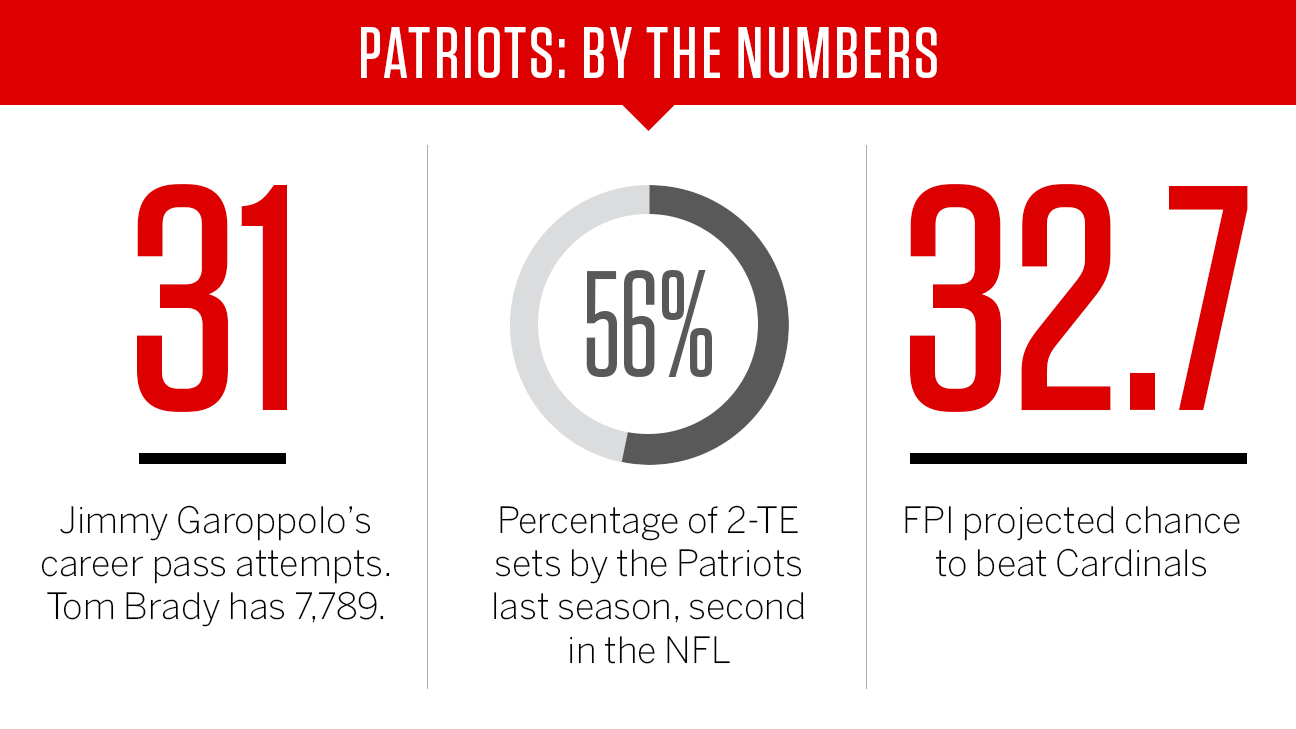 PATRIOTS' X FACTOR
The two tight end package with Rob Gronkowski (6-foot-6, 265 pounds) and Martellus Bennett (6-6, 273). Coach Bill Belichick said this offseason that quarterbacks love throwing to them, as they are "kind of interchangeable" with their ability as pass-catchers and blockers. Gronkowski didn't play in the preseason (he hasn't since 2012), but the Patriots figure to run the majority of their snaps out of the grouping. No team has run more multiple tight end groupings than the Patriots since 2010, and it's not even close. This has been an area that has challenged Arizona in past years.
WHY PATRIOTS WILL WIN
For all the focus placed on Garoppolo, the Patriots' defense is probably better than advertised. Malcolm Butler has emerged as a bona fide No. 1 cornerback, building off his dramatic game-saving interception in Super Bowl XLIX to put together a 2015 Pro Bowl season, while linebackers Dont'a Hightower and Jamie Collins are two of the best in the NFL at the position. An additional stat: Cardinals quarterback Carson Palmer is 0-4 against the Patriots in his career, with the last meeting coming in the 2010 opener.
WHY PATRIOTS WILL LOSE
This is a lot to ask of Garoppolo. He is only the fifth quarterback in the past 30 years to make his first career start in a regular-season opener in prime time. The Cardinals' defense blitzed more than any team last season (45 percent of opponents dropbacks, according to ESPN Stats & Information data), and the Patriots' offensive line, which was an issue in the AFC Championship Game, enters the season without starting right tackle Sebastian Vollmer (on the physically unable to perform list; hip).
PATRIOTS PREDICTION
This was a tough spot for the Patriots, whether Brady was playing or not. They enter as six-point underdogs, and Belichick made the point this week that he won't truly know his team until mid-October, as there are still moving parts on the roster. September has essentially become an extension of the preseason for the coach, and this will be a good learning experience for the club in the long haul. Cardinals 20, Patriots 16.
ARIZONA CARDINALS
Last season: 13-3
First place, NFC West
Lost to Carolina Panthers in NFC Championship Game
The last time we saw the Cardinals, they were walking off the field in Charlotte, North Carolina, heads down, shoulders slumped.
Over the past eight months, the Cardinals have retooled their roster, plugging holes (trading for linebacker Chandler Jones), improving deficiencies (signing guard Evan Mathis) and building depth (drafting tackle Robert Nkemdiche). The result is a team as deep as any in the NFL and a chic Super Bowl favorite.
The Cardinals return every player who scored an offensive touchdown last season. And with quarterback Palmer, 36, coming off the best season of his career, the Cardinals will build on last year's franchise-record 13-3 mark.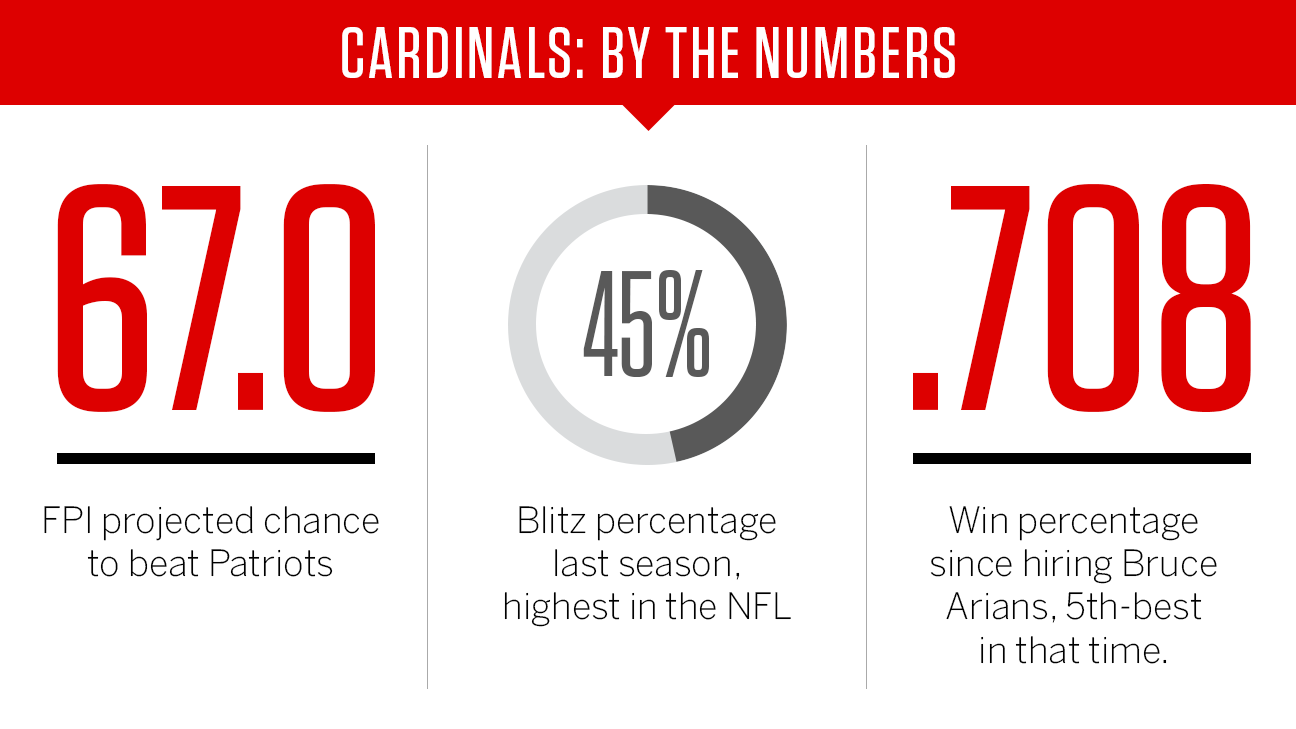 CARDINALS' X FACTOR
David Johnson. It's time to see if the second-year running back can live up to the hype that has been building around him. A lot has been said and written about the versatile Johnson, who will be the Cardinals' primary back this season. The difference between Johnson, who scored 13 touchdowns as a rookie, and other running backs is that he's not an "or" guy. He's an "and" guy, as in he can bulldoze his way between the tackles and bounce outside and outrun a defensive back and line up as a receiver and beat a linebacker off the line of scrimmage. As Belichick said this week, Johnson has "a combination of his size, his playing speed, quickness, has got good run vision and is a smart kid." The Cardinals will be able to use him in any way the Patriots allow, which makes him even more dangerous than your average running back.
WHY CARDINALS WILL WIN
Garoppolo. Yes, he's the Patriots quarterback, but Arizona's defense will overwhelm him, forcing turnovers in the form of sacks and interceptions. The Cardinals' defense isn't the unit a first-time starter wants to be facing, regardless of how long he has been in the league. Arizona's pass rush now includes former Patriots sack master Jones, whose presence alone will open lanes to the quarterback for Calais Campbell and Markus Golden, among others. Garoppolo also will have to deal with Deone Bucannon, the Cardinals' hybrid linebacker-safety who has become a trendsetter in the NFL -- but also is one of the league's fiercest hitters. Then there's the secondary, featuring All-Pro cornerback Patrick Peterson and Tyrann Mathieu at safety.
WHY CARDINALS WILL LOSE
Palmer. If Palmer starts throwing interceptions, the Patriots could leave University of Phoenix Stadium with a win. He threw two picks this preseason that Arians called "bad luck." If Palmer throws a pick-six on Sunday night, the game could swing on a dime. Palmer also will have to be careful on third down by not allowing the Patriots to force the Cardinals into a slew of three-and-outs. If Palmer can't get the offense moving, the Patriots have enough firepower on defense to make life tough on the Cardinals, which could lead to a home loss on national TV for Arizona.
CARDINALS PREDICTION
This offense is loaded, and Sunday night will be its coming-out party for 2016. The Cardinals simply have too many weapons for any team to handle. Palmer will have a big game, as will Johnson. Cardinals 31, Patriots 17.