Green Bay Packers reporter Rob Demovsky and Atlanta Falcons reporter Vaughn McClure take an in-depth look at Sunday's NFC Championship Game in Atlanta (3:05 p.m. ET, Fox).
GREEN BAY PACKERS
Record: 10-6
First place, NFC North
Aaron Rodgers is ready for a shootout, if necessary.
Since Week 12 and including the playoffs, the Packers quarterback has led the NFL in touchdown-to-interception ratio and ranks second in the NFL in yards per attempt (8.4) and Total QBR (83.8).
His counterpart, Falcons quarterback Matt Ryan, ranks first in yards per attempt (9.0) and Total QBR (87.4) in that same period.
It's no wonder the over/under was set at 61 points.
The Falcons won the regular-season meeting 33-32 at the Georgia Dome on Oct. 30. They did so by scoring the go-ahead touchdown with 31 seconds to play. The Packers scored 24 of their 32 points in the first half.
"We scored points on them last time, especially in the first half," Rodgers said this week. "They kind of tightened up in the second half and sacked us a few times on third downs. We have to do a better job of playing a 60-minute game against them because Matt's been pretty hot."
Whichever quarterback has the ball last might be on his way to the Super Bowl.
PACKERS' X FACTOR
Jeff Janis played exactly one snap in Sunday's divisional playoff win over the Dallas Cowboys. With all the injuries the Packers have at receiver, that could change this week. A year ago, Janis became a household name after an unlikely playoff performance with seven catches for 145 yards and two touchdowns in the divisional playoff loss at Arizona. Since then, he has largely fallen off the radar. He caught just 11 passes for 93 yards and a touchdown all season, but the lone touchdown came against the Falcons. With Jordy Nelson (ribs), Davante Adams (ankle) and Geronimo Allison (hamstring) all in danger of missing the game, it could be Janis' time again.
WHY PACKERS WILL WIN
Nobody has stopped Rodgers during the Packers' eight-game winning streak, and why would the Falcons -- with a defense that ranked 25th overall and 28th in passing yards allowed per game -- be the team to even slow him down? During the winning streak, Rodgers has thrown 21 touchdowns and just one interception while completing 68.9 percent of his passes for an average of 298 yards per game. And he had success against the Falcons in October, when he threw four touchdowns without an interception.
WHY PACKERS WILL LOSE
The Packers won't be able to stop Ryan. And why would they, with a defense that ranked 31st in the league in passing yards allowed per game? They certainly couldn't stop Dak Prescott this past Sunday. The Cowboys' rookie quarterback threw for 302 yards and three touchdowns. The Packers managed to pick off Prescott once, a key takeaway by defensive back Micah Hyde that saved at least three points and possibly seven, but Ryan isn't exactly turnover-prone. He threw only seven interceptions all season and hasn't thrown one during the Falcons' five-game winning streak.
PACKERS PREDICTION
The Packers didn't have Randall Cobb, Jared Cook or Ty Montgomery in their first meeting with the Falcons, and Green Bay almost pulled it out. Even if the Packers are short on receivers Sunday, it might not matter, given how hot Rodgers has been for the past two months. And if it comes down to a last-second field goal, who's more clutch than Mason Crosby? He has made 23 straight postseason field goals, the longest streak in NFL history. This team looks like it's headed back to the Super Bowl. Packers 31, Falcons 30
ATLANTA FALCONS
Record: 11-5
First in NFC South
MVP front-runner Matt Ryan is on a hot streak at the right time. He has guided the Falcons to five straight victories, including a 36-20 win over the Seattle Seahawks in the divisional round. Ryan has thrown 14 touchdowns and no interceptions in the five-game stretch. He needs to make sure he plays turnover-free Sunday with a Super Bowl berth on the line.
Ryan certainly knows what's at stake as he goes up against two-time MVP Rodgers, another quarterback who's on fire.
"I don't specifically have to go out on the field and defend Aaron, which is a good thing for us," Ryan said with a laugh this week. "I played against him a number of times. I've gotten to know him throughout the years. He's a good friend. And I respect him so much because he's such a great competitor."
Ryan won the last battle between the two during Week 8 of the regular season. But Rodgers won the most important one when the Packers marched into Atlanta as the underdog during the 2010 season and knocked the Falcons out of the playoffs with a 48-21 thumping. Rodgers went on to win the Super Bowl.
Ryan certainly doesn't want history to repeat itself in the final game at the Georgia Dome.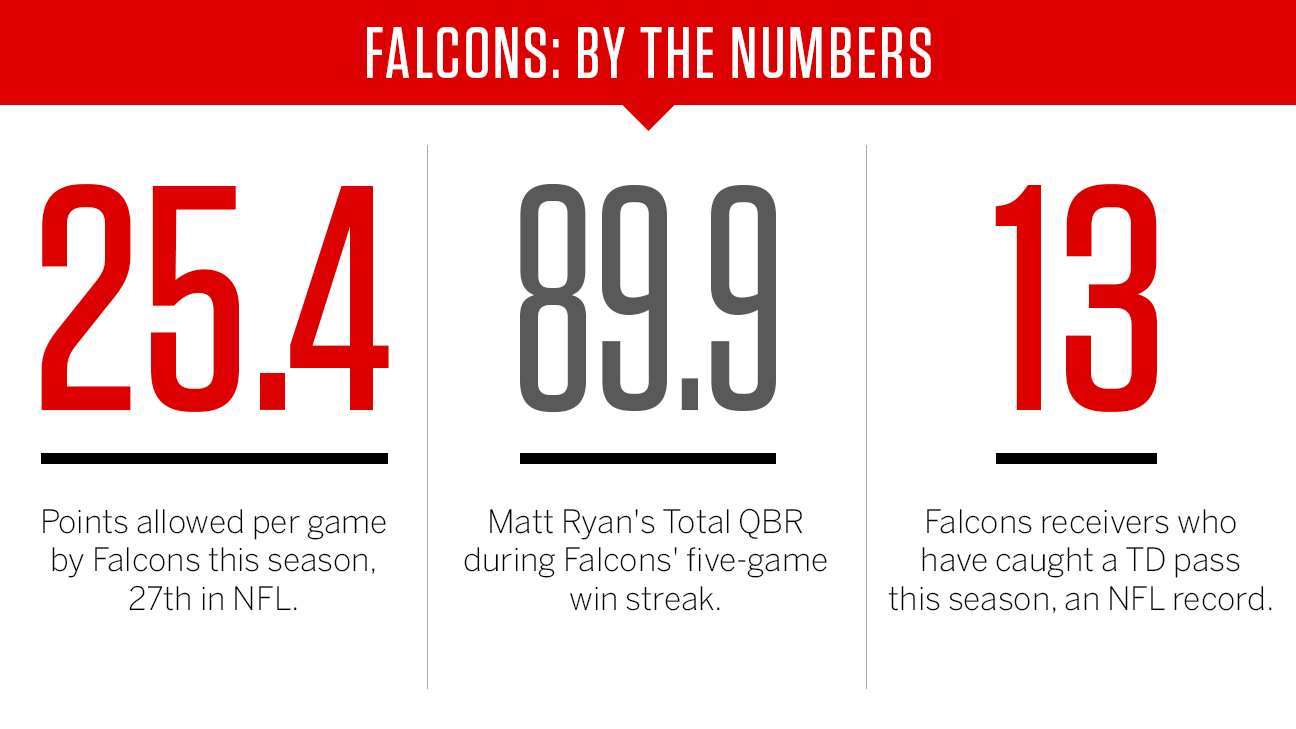 FALCONS' X FACTOR
Running back Tevin Coleman didn't play when the Falcons faced the Packers in that Week 8 game. He was nursing a hamstring injury. Coleman's replacement, Terron Ward, was the Falcons' leading rusher in that game with 46 yards on six carries. But no running back on the Falcons' roster is more explosive than Coleman. He can take it the distance on any play, and his improved hands have made him a more viable option as a pass-catcher. The one-two combo of Coleman and Devonta Freeman can be devastating when clicking on all cylinders. Everyone knows Freeman is a do-it-all back with great toughness. But if the Falcons can find ways to get Coleman in the open field, look out. He had 11 touchdowns during the regular season and another one last week on a 14-yard reception when the Seahawks lost him in coverage.
WHY FALCONS WILL WIN
It's the same formula as last week: scoring. The Falcons averaged an NFL-best 33.8 points per game during the regular season, including a 35-point average at home. Then they went out last week and put up 36 against what was supposed to be a reputable Seahawks defense. The Falcons have scored touchdowns on their opening drives in each of the past seven games. Some have been pleading coach Dan Quinn to put the ball in the hands of the high-powered offense if the Falcons win the toss, but deferring certainly hasn't slowed them down. Yes, the Packers also reached 30-plus points the last time the teams played, but the Falcons are more than capable of scoring 40 if necessary. The only thing that might slow them down is the status of top wide receiver Julio Jones, who aggravated a foot sprain and will see limited practice time heading into Sunday's game. He says he'll be ready to play Sunday.
WHY FALCONS WILL LOSE
Yes, the Falcons are playing much better on defense and have a certain confidence coming off the divisional round, but facing Rodgers and his variety of weapons presents a much bigger challenge. It starts with defending Randall Cobb out of the slot, a task expected to be put in the hands of rookie nickelback Brian Poole in man-to-man situations and perhaps even as part of the zone. Fellow rookie De'Vondre Campbell, a linebacker, expects to be matched up against tight ends Jared Cook and Richard Rodgers, with Cook being the better athlete but Rodgers possessing the better hands. And Packers wide receiver Davante Adams, coming off an ankle injury, will present a challenge to cornerbacks Robert Alford and Jalen Collins. Not to mention the slight possibility of Jordy Nelson returning from a rib injury; he dipped behind the Falcons' defense in Week 8 for a 58-yard pass play. All of that adds up to a tall challenge for the Atlanta defense.
FALCONS PREDICTION
The "Brotherhood" seems to be on a mission this season, as Quinn has established a winning mentality in everyone on the roster. Ryan might be adamant about "blocking out the noise" regarding his inability to reach a Super Bowl, but you can bet that some of the negativity has fueled him up to this moment. This game could be a shootout, indeed, but the Falcons prevail behind Ryan's arm and his running backs' legs. The defense will hold up just enough, relying on the blazing speed of rookie linebacker Deion Jones and Beasley and the physical play of rookie safety Keanu Neal to come up with some key stops. Falcons 35, Packers 31