Defending Big 12 champion Texas opens spring practice on Friday.
Among the Longhorns' biggest chores during spring practice: replacing record-setting quarterback Colt McCoy and star receiver Jordan Shipley.
Texas fans got a sneak peak at new quarterback Garrett Gilbert during the Longhorns' 37-21 loss to Alabama in the Citi BCS National Championship Game. After McCoy injured his throwing shoulder early in the first quarter, Gilbert was thrust into the game against one of the country's most ferocious defenses. The freshman responded by throwing for 186 yards with two touchdowns and four interceptions on 15-for-40 passing. After struggling mightily during the first half, Gilbert nearly rallied the Longhorns back from a 24-6 deficit in the second half.
Texas also will have to replace three starting offensive linemen: center Chris Hall, left guard Charlie Tanner and left tackle Adam Ulatoski.
I talked with Texas offensive coordinator Greg Davis on Monday about replacing his offense's departed stars: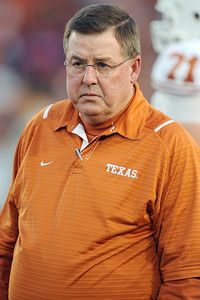 Chris Williams/Icon SMI
Texas offensive coordinator Greg Davis is breaking in starters at many key positions this offseason.How does your team replace Colt McCoy?
Greg Davis: Four years ago, everybody asked me, "What are you going to do when Vince Young leaves?" Now everybody wants to know what we're going to do after Colt left. We're going to regroup and plan on winning. I have to find exactly what Garrett's strengths are and find his comfort area. We've got to find the things we're going to do to utilize his talents. I'm very confident that he will be an outstanding player.
What are you looking to accomplish with Gilbert this spring?
GD: What I want from him this spring is just to relax and to be himself and not try to be Colt. I'm talking to him this offseason the same way I talked to Colt four years ago. I told Colt: "Hey, you're not going to rush for 1,000 yards like Vince Young. Just be Colt McCoy." That's what I'm talking to Garrett about. I told him: "You just need to go out and be yourself and lead the way you've always led." We expect to win games with him.
What did you learn about Gilbert after he was thrown into the BCS National Championship Game after McCoy injured his shoulder?
GD: I learned that a lot of the things we thought we knew about him were true. We thought he had a lot of poise. To start the way he did in the first half, and to have him come back and play the way he did in the second half, I think he showed a lot of poise and maturity. I thought he grew up a lot as the game went on. To play in that venue and play against that defense, and to have to adjust to the things they were throwing at him and to have to change protections, move around and know where his hot reads were, I was really encouraged by what I saw from him in that ballgame. I thought that was what I would see, but you never know until he gets thrown in there. I was pleased overall with the way he performed in that game.
Gilbert is a bigger quarterback than McCoy. What do you anticipate his playing weight to be?
GD: He's gained about seven pounds and weighs about 214. I would guess that he'll be in the neighborhood of around 220 pounds in August. He'll be a good-sized kid.
Your offense loses Shipley, who caught 116 passes and 13 touchdowns last season. You have a veteran group of receivers coming back and add one of the best recruiting classes in the country. How will you replace Shipley's production?
GD: It's going to have to be spread around. We went into last season knowing that Jordan would have over 100 catches and over 1,000 yards receiving. We went into the season expecting him to do that. We're going into the spring expecting those numbers to be spread out. We're expecting those numbers to be spread among guys like James Kirkendoll, Malcolm Williams, John Chiles, Marquise Goodwin and Greg Timmons, a young guy we redshirted last season. We're not going into the spring with the idea that one of them is going to have 100 catches and 1,000 yards receiving next season. We're going into the spring with the idea that we're going to spread the ball around. The group is going to have to pick up the slack.
How much progress did you think your offense made running the ball year?
GD: I thought there were times where we made progress, but when we sat down and looked at the season as a whole, we feel like it's still an area where we have to be more productive. The last two seasons, we kind of put a bunch of eggs in Colt's basket as far as running the ball. We kind of said, "If the defense outnumbers the run, that's fine and we don't care." But we've got to be better in the run game this season than we were the last two years. We're going to do some things this spring to try and help that.
Do you plan to make any changes schematically to your offense?
GD: We're going to go back under center with the quarterback some more. We played the last two years almost exclusively out of the shotgun. We will continue to play a lot of the game from the shotgun, but we're going to go back under center to try and help the backs run more downhill. With the zone read dropping off the radar, we're going to play with the running backs' alignment in the gun. When we are running the ball out of the gun, they can run more downhill. We can be tighter on our zones with the offensive line because of the landmarks with the backs. I think that is a big emphasis this spring -- to try and take the pressure off the quarterback and run the ball better.
How much more important is it to be able to run the ball more effectively this coming season to take the pressure off a young quarterback?
GD: We did the same thing when Colt took over. Even though we thought Colt was going to turn out to be a much better quarterback than anybody anticipated, we wanted to make sure we took some pressure off of him by being able to run the ball. We had a 1,500-yard rusher in Jamaal Charles [in 2007]. I think it's an important aspect of spring training to be more productive in the running game. We have the same kind of confidence in Garrett Gilbert, but we have to be able to run the ball to help him.