Since Kansas State beat Oklahoma in 2003 (and even that was an upset), all the fun has been sapped out of the Big 12 championship game for the North.
Colorado lost to Oklahoma 42-3 and Texas 70-3 in consecutive title games.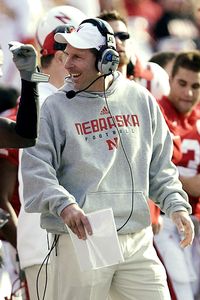 Bruce Thorson/US Presswire
Nebraska coach Bo Pelini's Cornhuskers have re-emerged as a conference power.Nebraska lost by two touchdowns to the Sooners in 2006.
Missouri lost by 21 to Oklahoma in the 2007 title game, even though they entered with college football's top ranking. They were steamrolled by a record-breaking offense in 2008, 62-21.
Drama hadn't been on the Big 12 championship game's guest list for a while.
That changed last year, when Nebraska famously came within a second (and a few somehow-overlooked feet on Hunter Lawrence's 46-yard game-winning kick) of ending the Red River Rivalry's streak of Big 12 titles, now at six.
The effect of the Huskers' performance on Texas coach Mack Brown was clear this spring.
"I'm glad to see Nebraska is back now because we needed that," he said. "When I got here, Nebraska, Kansas State and Colorado were the three strongest teams in the league. I feel the North is coming back now, and we're about to be one of the better conferences in the country at the top end."
Who figured Brown would be saying something like that this spring when the Huskers sat at 4-3 and 1-2 in the Big 12 in mid-October?
Shooing away all the Big Ten expansion talk, Nebraska's resurgence has prompted a balance the conference hasn't seen in a long time.
The spring has been about validating 2009's balance, proving that even losing one of the conference's best players ever won't slow the Cornhuskers' progress.
They've done it by building their team around defense and bringing the beef on the offensive and defensive lines.
Missouri built one of the best teams in school history around a dynamic offense, eventually ascending to No. 1, but still lost twice to the Sooners. A year later, they fell behind 35-0 in the first half to Texas and had no chance in the Big 12 title game, trailing 41-7 in the second half against Oklahoma.
Last season, Nebraska proved the South giants wouldn't bully it. It beat Oklahoma (even if it was a wounded Oklahoma in Lincoln) and came oh-so-close to beating Texas.
"I finally felt like we were at the position in our program where we can compete with anybody out there," said Nebraska coach Bo Pelini of his address to the crowd after the Holiday Bowl. "We had finally reached that point where week in and week out, there's not anybody they can throw at us that we don't have the opportunity to beat."
If teams want respect, that's how to earn it. Above all else, find a way to hold their own on the front lines. Nebraska hasn't won anything yet, a point Pelini pounded home this spring to anyone who would listen.
It won't be easy, and plenty of teams not named Texas and Oklahoma will try to stop them. But for the Huskers, this season is about beginning to fill the Pelini era's empty résumé and, in the process, restoring the conference's balance.