So much for the glitz and glamour of being a college running back.
When Rex Burkhead started lining up his potential choices of where to play college football, he knew hard work would be an important factor in reaching his potential as a player.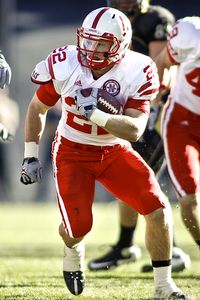 Marc Piscotty/Icon SMI
Nebraska running back Rex Burkhead didn't expect to start as a freshman, but has excelled.And after meeting Nebraska's Bo Pelini and learning of his determined, tenacious, blue-collar approach as a football coach, it was a match with Burkhead's hopes for a program.
"I wanted to be at a place where the guys that surround me had drive and a work ethic," Burkhead said. "It brings out positive atmosphere. When I noticed what they had at Nebraska, it was a big impact on me coming here."
Burkhead's early drive has helped him become a capable weapon for the Cornhuskers as a freshman. After missing five games midway through the season with a with a broken foot, he returned last week to rush for a career-best 100 yards against Colorado and was the Cornhuskers' leading rusher.
His emergence has provided a capable compliment to leading Nebraska rusher Roy Helu Jr. Together, they have developed into the Cornhuskers' biggest offensive threat going into the Big 12 Championship Game Saturday night against Texas.
"It's nice to have multiple options," Pelini said. "To have Helu and then what Rex brings to the table adds even more to what we have. You need guys who can come in and help. It's developed some depth and getting Rex back helps us."
Burkhead's development into a rushing threat has come a little earlier than he expected. He wasn't sure he would even play this season. But a late charge in training camp, coupled with the dismissal of Quentin Castille created a position for him in the Cornhuskers' rotation.
After some strong early work, Burkhead appeared to be hitting his stride before he was injured in practice four days after the Cornhuskers' victory over Missouri. While taking part in a routine drill, he sustained a hairline fracture in his right foot.
After the injury to Burkhead, the offense slid into a funk. The Cornhuskers scored only 17 points in losses to Tech and Iowa State. But they've rebounded from there to claim their last five games, entering the championship game with some growing offensive confidence as prepare for the No. 3 Longhorns.
Against Colorado, Burkhead provided a 7-yard touchdown run that helped ice the Cornhuskers' victory. On the 13-play scoring drive, the gritty 5-foot-11, 200-pounder accounted for nine carries for 55 yards in his most consistent usage this season.
"It was a great drive," said Burkhead, who had 12 of his 18 carries in the fourth quarter. "The offensive line did a tremendous job of opening up holes left and right. I felt like I was in high school, getting into rhythm. It felt good."
The biggest transformation for Burkhead has come in areas other than carrying the ball. The 5-foot-11, 200-pounder has learned about pass blocking, gradually picking up other areas of Nebraska offensive coordinator Shawn Watson's multi-faceted offense.
"It was about the same, but grasping all the other details was the biggest transition," said Burkhead, who has accounted for 235 rushing yards in his injury-curtailed season. "I had to learn all of the other details about blocking like picking up the blitzers and reading the blitzes. It's coming along."
During his career at Plano High School in the suburbs of Dallas, Burkhead was one of the most celebrated high school players in the state of Texas. He rushed for 1,762 yards and 28 touchdowns as a senior, also adding 42 receptions for 594 yards and five touchdowns and excelled at returns.
Those big numbers earned him the Dallas Morning News' All-Area Class 5A Offensive Player of the Year, joining recent standouts like Chase Daniel, Graham Harrell and Matthew Stafford who have won the award. And it earned Burkhead the nickname of "Superman" because of his exploits in football and basketball.
"Rex is a pretty special young man," Pelini said. "You look at what he did as a high-school athlete. He's done it for a long time when he did it in a competitive high-school area. He's tough, hard-working and is a leader. He exemplifies everything I want to bring into this program."