SOUTH BEND, Ind. -- No one on the Connecticut sidelines could avoid the feeling. Another painful loss was coming.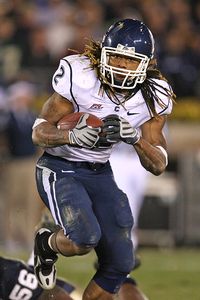 Jonathan Daniel/Getty Images
UConn's run game, led by running back Andre Dixon, overpowered Notre Dame in two overtimes Saturday, 33-30.
After the Huskies had two potential winning touchdown runs by Andre Dixon called back by holding penalties and missed a field goal at the end of regulation at Notre Dame, the deja vu became inescapable. This team, after all, had lost five games by a total of 15 points this year, including three straight heartbreakers since the death of teammate Jasper Howard.
"It starts to feel like those other games," Dixon said. "Those thoughts pop into your head."
Even coach Randy Edsall, who's been so strong throughout the ordeals of a most trying season, said he couldn't help but think "Here we go again" once Dave Teggart's missed 37-yarder sent the game to overtime against the Irish.
UConn had to draw strength from somewhere, and it did so behind its strength. The running game, a staple ever since Edsall took over this program, overpowered Notre Dame in the second half and in overtime as the Huskies won 33-30 in two extra periods.
Dixon covered all 25 yards in the second overtime on four runs, capping it with a four-yard score. He finished with 114 yards on the ground, while fellow tailback Jordan Todman had 130 yards, a rushing touchdown and a kickoff return for a score. There wasn't much fancy to the UConn offense beyond lining it up and pounding it behind an offensive line featuring four guys over 315 pounds.
"We feel like our offensive line can always get stronger as the game goes on, and that's what happened," Edsall said. "I think we might have worn them down a little bit in the second half."
Notre Dame safety Harrison Smith said that the Irish defense wasn't confused. They could tell by the formations that UConn was lining up to run. They just couldn't do anything about it.
"UConn thrives on running the ball," Dixon said. "If we can run the ball and you're not stopping, it's going to be a long day. And I definitely think it was a long day for them."
Edsall called this the program's best win since it moved up to the FBS level in 2002, and it certainly registered as the most emotional. Since Howard's death, the team has been bringing his No. 6 jersey to the sidelines for games, but it hadn't gotten a win in his honor since he was stabbed the night of the Oct. 17 Louisville game. Edsall said he would send a game ball to Howard's mother and stepfather in Miami.
"You've got to understand what this team has gone through," said Edsall, who was near tears after the game. "That first win we got [after Howard's death] was going to be special. And what better place than here?"
Dixon and Todman also had some extra motivation to run hard for running backs coach Terry Richardson, who didn't make the trip to attend the funeral of his mother.
"He definitely would have pushed us if he was here," Todman said. "He would have been yelling, 'Come on, baby, tote that thing!"
They couldn't have run any harder or better than they did. And they helped UConn escape another painful loss.