It's not easy coming up with a list of the 10 best players of the past decade in the Big East.
You could almost make the list solely from Miami players between 2000 and 2003; the Hurricanes were that dominant with that many unbelievable athletes on the roster.
But there were several other outstanding players on other teams throughout the decade. When trying to pare down the top 10, I gave extra benefit to longevity. Many stars had amazing single seasons -- guys like Willis McGahee, Donald Brown and Elvis Dumervil -- but I leaned toward those who did it over a longer period of time. NFL production doesn't hurt one's case but is not a major determining factor; this is a list of the best Big East players, not top future pros.
So without further ado, here's my Top 10:
10. Brian Brohm, QB, Louisville: Brohm held the league's all-time career yardage mark before Matt Grothe broke it this past season. He led the Cardinals to the 2007 Orange Bowl title, and he still owns Big East records for passing yards in a career (9,956), season (4,024) and a game (555).
9. Mardy Gilyard, WR, Cincinnati: Gilyard's 3,003 career receiving yards rank just 40 yard behind the league's all-time leader, Rutgers' Kenny Britt. But he is also a two-time league special teams player of the year for his tremendous work on kick returns, and he was one of the main catalysts for the Bearcats' back-to-back Big East titles in 2008 and 2009.
8. Ken Dorsey, QB, Miami: Dorsey is the only Big East quarterback who can say he won a national title in the aughts. He finished his career with a ridiculous 38-2 record, was a two-time Big East offensive player of the year award winner, a two-time Heisman Trophy finalist and the co-MVP of the 2002 Rose Bowl.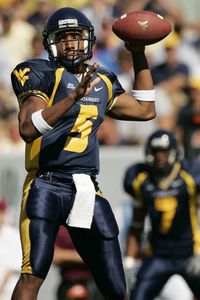 Ron Scheffler/US Presswire
Former West Virginia quarterback Pat White had a 4-0 record in bowl games.7. Sean Taylor, DB, Miami: Taylor was an incredible physical specimen who was as feared a defensive player as the league has ever seen. The hard-hitting safety had 10 interceptions while winning 2003 Big East defensive player of the year honors. Tragically, his life was cut short when he was killed in his home in 2007.
6. Dwight Freeney, DE, Syracuse: Freeney was a holy terror on quarterbacks. His 34 career sacks ranks as the third most in Big East history, and he recorded 17.5 of them his senior year. He has gone on to stardom with the Indianapolis Colts.
5. Bryant McKinnie, OT, Miami: It's easy to forget the big guys up front sometimes, but it's impossible to omit McKinnie from this list. The 2001 Outland Trophy winner and two-time All-American did not allow a sack in his college career. He finished eighth in Heisman Trophy balloting in 2001 -- for an offensive lineman, that's staggeringly high.
4. Ray Rice, RB, Rutgers: Rice had two of the top three rushing seasons in Big East history and finished his three-year career with 4,926 rushing yards, only 113 yards behind all-time leader and four-year player Avon Cobourne of West Virginia. Rutgers' running game has sputtered ever since Rice left campus, and he has blossomed into a star at the next level.
3. Ed Reed, DB, Miami: Reed's Big East record of 21 career interceptions may not be broken for a long, long time. The two-time All-American had nine picks and returned three for touchdowns in 2001 alone.
2. Larry Fitzgerald, WR, Pittsburgh: Fitzgerald finished second in the 2003 Heisman Trophy race and ought to have won it. His incredible season saw him catch 92 passes for 1,672 yards and 22 touchdowns. He was almost as good in 2002, as well.
1. Pat White, QB, West Virginia: White may or may not be the best player on this list, but his accomplishments put him above the rest. He finished his career as the NCAA's all-time leader in rushing among quarterbacks, led West Virginia to two BCS bowl wins and went 4-0 in bowls as a starter. Maybe more importantly, he helped save the Big East by leading the Mountaineers to a win over Georgia in the 2006 Sugar Bowl when the league's credibility and BCS status were in question. For pure impact and career achievement, White is the Big East's man of the decade.
Very honorable mention: Andre Johnson, Kellen Winslow, Willis McGahee and Jonathan Vilma, Miami; Donald Brown, UConn; Kenny Britt, Rutgers; Elvis Dumervil, Louisville; Antonio Bryant and Darrelle Revis, Pitt; Mathias Kiwanuka, Boston College; DeAngelo Hall, Virginia Tech.
That's my list. Who's in your Top 10 of the past 10 years?