In college football, the program is usually only as good as the head coach. So as we review the superlatives for the past decade, it's time to look at the top 10 Big East coaches of the aughts (record while competing as league head coach in parenthesis):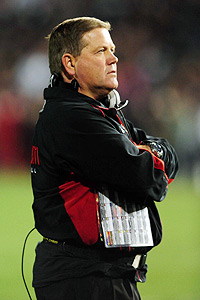 Andrew Weber/US Presswire
Former Cincinnati coach Brian Kelly left a big mark on the Big East.1. Brian Kelly (34-6, three seasons): Kelly's time was brief, but what an impact he had on Cincinnati and the league. He took a program that hadn't accomplished much of anything and led it to three straight 10-win seasons, two BCS games and a 12-0 mark in his final year before heading off to work his magic at South Bend. He won the Big East coach of the year award all three years he was in the league.
2. Rich Rodriguez (60-26, seven seasons): West Virginia was always good, but Rodriguez took it to a new level. His spread-option offense was unlike anything the league had seen, and with Pat White and Steve Slaton running it he went 32-5 with two Big East titles between 2005 and the end of the 2007 regular season, when he bolted for Michigan.
3. Larry Coker (35-3, three seasons): Coker couldn't sustain his incredible early success, but his downward trend happened in the ACC. While in the Big East, he lost only one conference game, won a national title and finished as the national runner-up.
4. Bobby Petrino (21-4, two seasons): Petrino may have been the most feared coach to stalk a Big East sideline this decade, and not just because of his acerbic personality. His teams wouldn't just beat you, they could humiliate you. Ask Rutgers, which lost to Petrino's Cardinals 56-5, or Cincinnati, which suffered a 70-7 blowout at his hands. Only Louisville fans were sad to see him leave for the NFL.
5. Frank Beamer (37-14, four seasons): A coach so good that he has a style of play -- "Beamer Ball" -- named after him. He built Virginia Tech into a power and the Hokies were one of the Big East's top programs before leaving for the ACC after the 2003 season.
6. Randy Edsall (42-32, six seasons): It's difficult to overestimate the job Edsall has done, taking a program from the Division I-AA level to the FBS to a BCS conference, and doing so without a natural recruiting base. His teams are always fundamentally sound and don't beat themselves, and he's developed no-name recruits into NFL players.
7. Greg Schiano (55-55, nine seasons): Schiano's overall record is deflated because he took over a program that was in horrible shape. He deserves tremendous credit for bringing Rutgers to respectability and beyond. The program had been to one bowl game in its history before Schiano, who has guided the Scarlet Knights to five straight postseason trips. The next step is to break through to that next level and win a Big East title.
8. Tom O'Brien (41-21, five seasons): Like their coach, the Eagles weren't overly flashy, but they just won. Boston College went to and won a bowl game all five years in the Big East under O'Brien, who's now at NC State.
9. Bill Stewart (19-8, two seasons): Mountaineers fans give Stewart a lot of grief, and it wouldn't have been easy for anyone to follow Rodriguez's level of success. But Stewart has a pair of nine-win seasons, a BCS win over Oklahoma as an interim coach and a 10-4 career Big East record.
10. Dave Wannstedt (35-26, five seasons): It may have taken Wannstedt a couple of years to adjust to the college game. But he was always a terrific recruiter who piled up loads of Pennsylvania talent. That has begun to pay off as Pitt has won 19 games the past two years under Wannstedt, including a 10-win campaign in 2009. The Panthers now appear to be a perennial Big East title contender once again.