WEST LAFAYETTE, Ind. -- Several photos line the wall outside Danny Hope's office at the Mollenkopf Center, commemorating Purdue's string of bowl appearances under former head coach Joe Tiller.
Hope's first season at the helm of the Boilermakers' program won't make it to the wall. There's no bowl championship trophy, no pictures of players and coaches wearing T-shirts and shades in the dead of winter. Hope's players don't tote any bowl swag, because they didn't get any.
A 5-7 season doesn't produce any tangible rewards. But it left Hope feeling very optimistic about the future.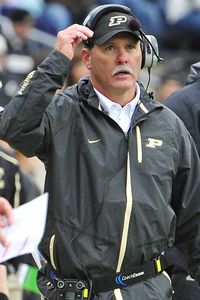 Sandra Dukes/Icon SMI
Purdue coach Danny Hope hopes the Boilermakers can capitalize on their strong end to the 2009 season.
After a 1-5 start filled with turnovers and near misses, Purdue rallied to go .500 in Big Ten play. The Boilers stunned then-No. 7 Ohio State, snapping a 19-game slide against ranked opponents. They also notched their first win at Michigan Stadium since 1966.
So, what exactly did Purdue accomplish in 2009?
"We made some noise," Hope said. "We've got a lot of work to do, and we haven't arrived yet, but we made some noise on the field the second half of the season. We weren't that far off, and everybody could see that. We kept swinging away, and we kept getting better as a team.
"When it was all over, we had some special moments in 2009."
The next steps are obvious for Purdue. Find ways to win close games, avoid the 10-minute disaster stretches that cropped up throughout last season, improve ball security, run defense and special teams, and, most importantly, get back to the postseason.
Simply making a lower-tier bowl isn't enough for first-team All-Big Ten wide receiver Keith Smith.
"We want to go to a January bowl game," he said. "That's our goal."
Purdue might have the personnel to get there. Despite losing 20 seniors, including quarterback Joey Elliott, safety Torri Williams and defensive tackle Mike Neal, the Boilers should be a deeper team in 2010.
Wide receiver was a major question mark for Purdue entering last season, but Smith emerged as the team's latest top option with a league-leading 1,100 receiving yards on 91 catches. He'll lead a group of wideouts and tight ends that also features Kyle Adams, Keith Carlos, Antavian Edison, Cortez Smith and others.
Ralph Bolden came out of nowhere to finish third in the Big Ten in rushing (77.9 ypg) and second in scoring (5.5 ppg), and the speedy junior expects big things this fall, especially if Purdue can reload along an offensive line that loses three starters. Al-Terek McBurse is a promising No. 2 option, and fullback Dan Dierking also returns.
"From a skill standpoint, we could have as much skill as Purdue has had on offense in many, many years," Hope said. "We're very promising at running back, we have all our tight ends back, we have Keith Smith back.
"There's some firepower there. We have to develop it."
Many eyes will be on the quarterback competition this spring, specifically Miami transfer Robert Marve. Marve, who will compete with Caleb TerBush for the top job, gets a fresh start after a tumultuous two years at Miami that got ugly at the end.
Purdue coaches and players say Marve has matured a lot in the last 10 months, and Marve's ability as a former blue-chip recruit has never been in doubt.
"In [offseason workouts], he's taking control," Bolden said. "He pretty much knows our offense. I don't know how, but he just jumped in and knew it, telling people to run this, changing routes and everything. He pretty much knows what he's doing, so I'm just following his lead."
Big Ten sacks leader Ryan Kerrigan leads a defense that must get tougher against the run after finishing last in the Big Ten in each of the last two seasons. The Boilers are helped by greater depth up front and the return of standout linebacker Jason Werner, who received a sixth year of eligibility from the NCAA last month.
Hope and his assistants will spend much of the spring evaluating the secondary, which must replace all four starters.
"Obviously, the bar has been raised," Hope said. "The record that we had last year, even though we had some signature wins, was not good enough. We didn't make postseason play.
"The standard is set, and the expectation level is always high at Purdue."