Iowa quarterback Ricky Stanzi isn't in denial.
As soon as he finished his duties as victorious signal caller/American hero at the Orange Bowl in Miami, Stanzi began to focus on the area of his game that needed the most work before the 2010 season.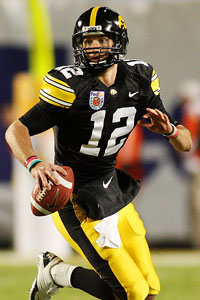 Marc Serota/Getty Images
Iowa quarterback Ricky Stanzi is focusing on limiting his interceptions this offseason.He didn't need anyone to spell it out for him.
"Obviously, the turnovers were the first thing that needed to be addressed," he said. "It starts with me, obviously, being the quarterback, the guy who has the ball in his hands the most."
Stanzi's overall résumé at Iowa speaks for itself. He owns a 18-4 record as the Hawkeyes' starting quarterback. He has led the team to two bowl victories, occupies sixth place on the school's all-time passing yards list (4,373) and was a semifinalist for the Davey O'Brien Award last season.
But the guy with the ball in his hands the most has, at times, handed it over to opposing hands at an alarming rate. Stanzi threw 15 interceptions last fall, tying for most among Big Ten quarterbacks. He threw five interceptions against Indiana -- four in the third quarter alone -- and had four pick-sixes.
And amazingly, Stanzi and the Hawkeyes survived it all. Iowa's only two losses came in a game Stanzi didn't finish because of injury (Northwestern) and a game he missed because of injury (Ohio State). His value as an on-field leader and as a performer, particularly in the fourth quarters of close games, isn't up for debate.
Still, Stanzi knows you can only live on the edge for so long. It's very rare a team can survive multiple picks or pick-sixes and come away with wins like Iowa did in 2009.
"We need to clean up our turnover ratio," head coach Kirk Ferentz said. "We were doing really well through half the year, and then the bottom kind of came out. If we hadn't done such a good job with takeaways, it really would have been a bad thing. We broke even [plus-2 for the season], but that's a little bit of a distorted figure in my mind."
To address the issue, Stanzi and Iowa's other quarterbacks reviewed tape of each interception thrown last fall and put a grade on it. Offensive coordinator Ken O'Keefe and his staff did the same.
They tried to identify what went wrong on each play and whether any themes or habits emerged that could be addressed.
"Obviously, it was a turnover, but you want to look at why it was a turnover," Stanzi said. "What was wrong? Was it your feet? Was it the wrong read? Was the ball just not there? There's a lot of different things that factor into each different play, so there's not one thing you can put your finger on. But they were all ultimately my fault, so looking back on those, I use them as learning tools."
O'Keefe also identified more than one cause. He saw Stanzi forcing things a bit early in the year, putting too much on his shoulders. There also was a stretch of poor decisions and several throws that came a little late.
The good news? Everything could be corrected, and Stanzi dedicated himself toward doing so in spring practice.
"He works hard, he studies a lot of tape, he knows our system," O'Keefe said. "On our off days for practice, he might be in the indoor facility working on drops. He's always doing something to try and help us as a team, and he feels the best way for him to help the team is to improve on things that he needs to get better at."
The film review this winter served its purpose, but Stanzi needed to validate what he'd learned on the field.
"When you're sitting in the film room, you're not able to go out and actually put in the work into a rep," he said, "which can be the next step in ultimately cutting back on the turnovers."
O'Keefe wants Stanzi to be more comfortable with throwing the ball away when receivers aren't open or taking off and running for a first down instead of forcing a throw.
Both men admit that Iowa threw downfield more often in 2009, a shift that could be attributed to a talented group of pass-catchers (Derrell Johnson-Koulianos, Marvin McNutt and Tony Moeaki) and the absence of a dominant running back like Shonn Greene. But just because Stanzi attempts more low-percentage passes doesn't mean his interceptions percentage has to rise.
"We're not planning on changing our attack an awful lot, so it's just a matter of cleaning a couple things up," Ferentz said. "There are times when you take chances and there are other times when you just don't. That's part of the process. He'll be fine.
"It's something he can get better at, and that's obviously No. 1 on his list right now, just taking a little bit better care of the ball."