Celtics guard Ray Allen was named the 2009-10 NBA Sportsmanship Award winner for the Atlantic Division on Monday, making him a finalist for the award that honors a player who best represents the ideals of sportsmanship on the court.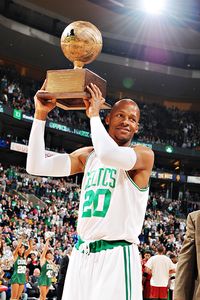 Brian Babineau/NBAE/Getty Images
Ray Allen with another of his many awards.This year's six divisional winners, as selected by a five-member panel of former players, are Allen, Atlanta's Al Horford, Cleveland's Antawn Jamison, Denver's Chauncey Billups, Houston's Louis Scola and Phoenix's Grant Hill. The NBA will announce the league-wide winner after the regular season.
The 2009-10 NBA Sportsmanship Award winner will be presented with the Joe Dumars Trophy, named after the Hall of Famer and former Detroit Pistons great who played 14 seasons in the NBA and was the recipient of the inaugural NBA Sportsmanship Award in 1996.
Former NBA players Mike Bantom, Mark Jackson, Tom "Satch" Sanders, Kenny Smith and Eric Snow selected the six divisional winners from a pool of 30 nominees, one from each team.
After the jump, you'll find a complete list of sportsmanship award winners since 1996. Allen previously won the award with Seattle in 2002-03.
Inaugural: Joe Dumars (1996)
1996-1997: Terrell Brandon, Cleveland
1997-1998: Avery Johnson, San Antonio
1998-1999: Hersey Hawkins, Seattle
1999-2000: Eric Snow, Philadelphia
2000-2001: David Robinson, San Antonio
2001-2002: Steve Smith, San Antonio
2002-2003: Ray Allen, Seattle
2003-2004: P.J. Brown, New Orleans
2004-2005: Grant Hill, Orlando
2005-2006: Elton Brand, Los Angeles Clippers
2006-2007: Luol Deng, Chicago
2007-2008: Grant Hill, Phoenix Suns
2008-2009: Chauncey Billups, Denver Nuggets