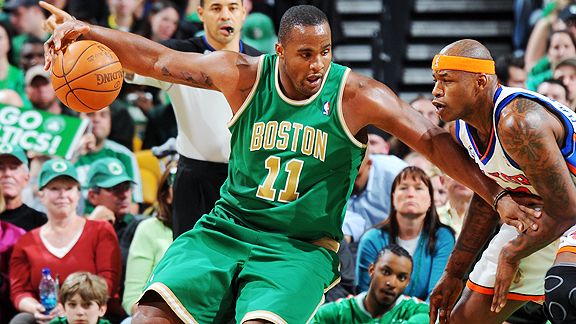 Brian Babineau/NBAE/Getty Images
Glen Davis knows his role with this year's team.WALTHAM, Mass. -- If Glen Davis is about to be passed on the Celtics' depth chart, he won't get caught looking in his rearview mirror as it happens.
A short time after coach Doc Rivers told the media Monday that he grappled with the decision of whether to use Davis or Shelden Williams as his first big off the bench in Sunday's win over the Cavaliers, Davis talked confidently about shaping an identity for himself on this season's team, thriving in a role recast after last season and seemingly earning a spot in the playoff rotation as the postseason nears.
"Being a young player, you have to learn by experience," said Davis. "It shows Doc had faith in me in the rotation to get it done. I don't want to let him down, knowing he believed in me and my skills, he's seen me grow as a player.
"I like the rotation we have, we're gaining momentum out there. We could do things better, but we're getting better each day and making sure we're mentally focused when that time comes."
Regardless of whether he's cemented in his role or not, the 2009-10 season has certainly not played out like Davis or the Celtics expected.
Filling in for an injured Kevin Garnett last season, Davis essentially doubled his regular-season production, averaging 15.8 points, 5.6 rebounds, 1.8 assists per game in the playoffs.
That led to high hopes for this season, particularly after some worried Davis might be lured away as a restricted free agent last summer. Instead, the Celtics worked out a friendly two-year, $6.3 million deal to bring Big Baby back.
But the addition of free agent Rasheed Wallace this past offseason limited the need for a scoring big and meant Davis had to find a different way to ensure he had a spot on the court.
Click HERE to read the full story, or HERE to read Baby's latest player diary for ESPNBoston.com. For more on the rotation, click HERE for Doc's thoughts at Monday's practice.