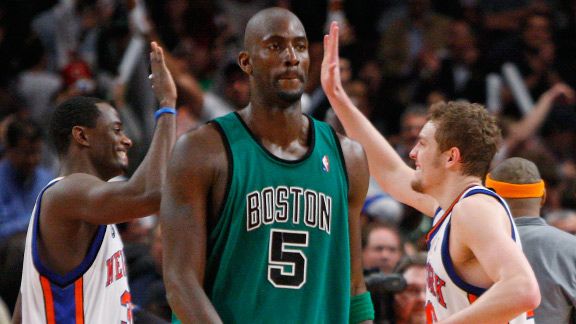 AP Photo/Kathy Willens
Kevin Garnett can't be happy with his team's effort Tuesday.A collection of postgame news and notes from afar after the New York Knicks surprised the Boston Celtics Tuesday night at Madison Square Garden:
The rundown (a quick look at postgame headlines)
* Basketball gods punish Celtics yet again
* Robinson gets a chance vs. old team
* Loose balls: Scouts dropped ball with Barron
Basketball gods punish Celtics yet again
Celtics coach Doc Rivers is a firm believer in what he calls the "basketball gods," or the thought that a higher power is at work during games and often rewards (or, more often, punishes) players based on their overall performance and intensity level.
This year, the Celtics often seem hell-bent on angering those basketball gods.
Coming off Sunday's triumph over a Cleveland Cavaliers squad with the best record in basketball, the Celtics arrived in New York Tuesday and sleepwalked to their 29th loss of the season. What's more, little in their body language suggested Boston even cared about Tuesday's game against a non-playoff-bound foe.
At least five times during his postgame press conference after Tuesday's loss, Rivers brought up the word "focus," suggesting his team had absolutely none of it against the Knicks, and paid the price when Danilo Gallinari's top-of-the-key heave in the final minute slammed off the glass and banked in to cap his career-high 31-point outburst.
"We didn't execute, it was as simple as that," said Rivers. "I thought we just showed up [Tuesday] and played basketball, and we had no focus. We deserved to lose. The bank shot that Gallinari hit, that was the basketball gods punishing us for not having great focus. If you let them hang around, bank shots happen. I just thought we absolutely deserved that."
As was the case in Friday's meltdown against Houston, Boston's starters couldn't put a young and feisty opponent away Tuesday. Unlike other recent games, Boston simply seemed disinterested at times against New York.
"The other games we didn't play well, but [Tuesday night] I was disappointed," admitted Rivers. "It was a tough game to watch throughout. You could just see it not being there, in our defensive lapses, which, to me, is a result of focus."
What made Tuesday's loss sting even more was that the Hawks lost to the Bobcats, so the Celtics blew a chance to gain ground in the race for the third seed in the Eastern Conference. Atlanta remains a game ahead of Boston with five to play.
The Celtics can't afford to look past anyone this season.
"We've got to take everybody and respect each team in this league," said Kevin Garnett. "You've got to come to play every night. You can't pick and choose who you want to play."
Robinson gets a chance vs. old team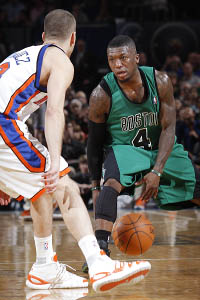 Paul Bereswill/NBAE/Getty
Nate Robinson got quality time vs. his old team.Guard Nate Robinson might be out of the Celtics' postseason rotation (for now, at least), but Rivers gave him every opportunity to prove himself Tuesday night against his former team.
Robinson logged 14 minutes against the Knicks, posting 5 points, 5 assists, 3 rebounds and a steal. Those aren't the type of numbers that are likely to inspire Rivers to rethink his playoff personnel, but it's a step in the right direction for Robinson.
Robinson highlighted Boston's fourth-quarter charge Tuesday. After drilling a trademark 3-pointer near the top of the key, Robinson assisted on a pick-and-pop with Glen Davis. A short time later, Michael Finley's 3-pointer put the Celtics out front 88-86 with nine minutes to play.
But Boston's starters couldn't make stops and the Knicks made more plays down the stretch.
"They were making shots, outhustling us, playing harder and playing with more passion," said Rivers. "Clearly, you could see in the third quarter, they realized they could win the game. It clicked and they played with that type of passion."
Loose balls: Scouts dropped ball with Barron
AP Photo/Kathy Willens
Fresh from the NBA D-Leauge, Earl Barron posted a double-double with 17 points and 18 rebounds.* Even after a tough loss, Rivers kept his sense of humor while discussing Knicks forward Earl Barron and the fact that he had been stuck in the NBA Development League until recently. Barron, a 7-footer who spent his first three seasons with Miami, registered 17 points and 18 rebounds over 44 minutes Tuesday.
It was only Barron's second appearance since inking a 10-day contract; he'd bee with the Iowa Energy of the D-League.
"Scouts suck in this league, don't they?" joked Rivers. "[Barron] was really good in Miami and I thought he had a nice run there. He's an interesting player. He can shoot the jump shot with size and he goes after every shot trying to block it. We'll see if he can sustain it. But he's a great kid, I hope he can."
* The Knicks boasted a 15-5 advantage in offensive rebounds Tuesday and a 44-34 advantage on the glass overall.
"You cannot get offensive rebounds when you don't move, when you have no focus," said Rivers.
* The Celtics shot 54.8 percent (40 of 73), easily topping the Knicks (44.3 percent on 39-of-88 shooting), but second-chance points killed Boston, including David Lee's offensive rebound before Gallinari's pivotal bank shot late in the game.
"That's three games in a row -- we've shot 60 percent, 50 percent and 55 percent our last three games. Usually that guarantees wins, but right now [it doesn't]."
Materials from the Associated Press were used.