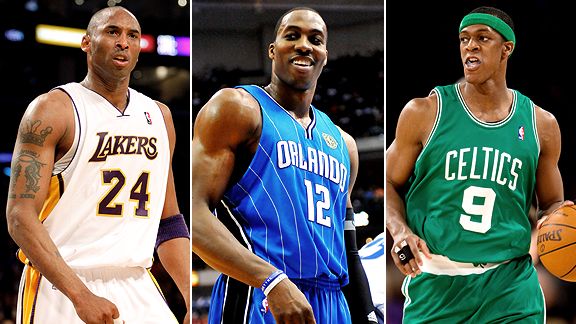 Icon/SMI
Rajon Rondo (right) is among the NBA's elite defenders.ESPN.com's John Hollinger unveils his picks for the 2009-10 All-Defensive Team

with Rajon Rondo earning a lofty spot on the list as the first-team point guard.
Rondo remains the cream of the crop when it comes to defending the point guard position in spite of a propensity for gambling that sometimes drives Boston coach Doc Rivers crazy. He's the main reason the Celtics are so good at forcing turnovers, leading the league in steals and using his young legs to save Boston's aging core from a serious speed disadvantage. As an added plus, his arms are so long that he can switch to face bigger guards with relative ease.
Kevin Garnett and Kendrick Perkins get honorable mentions from Hollinger, who hands out awards for the top three players and points to the best of the rest. Here's his blurb on Boston's frontcourt tandem:
Garnett drags his leg around and has clearly lost a step -- most notably when he switches onto the perimeter -- but his smarts, unparalleled length and legendary tenacity still make him one of the game's most effective defensive players.

Perkins isn't a great shot-blocker, but he's a mean, physical SOB who plays incredibly tough post defense. If you're going up against Dwight Howard, then Perk is the player you want guarding him. A couple other centers, however, outrank him as help defenders, especially when it comes to picking up guards on the perimeter.
Click HERE

to read the full story.