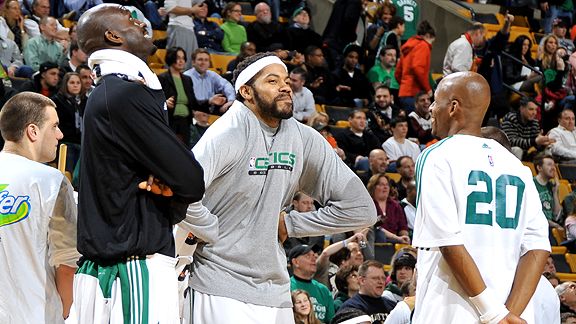 Brian Babineau/NBAE/Getty Images
Rasheed Wallace, center, shares a smile with teammates.Rasheed Wallace has become one of Bill Simmons' least-favorite Celtics of all time and, excerpted below, is a few reasons why:
Did Rasheed Wallace infect the team, or was the team already infected? Probably the latter. Probably. To be safe, let's figure it out. Everything you're about to read has nothing to do with Wallace's qualifications as a friend, husband, father or son. I am discussing him as a basketball player only. We will call that person "Sheed."

Sheed will finish the 2009-10 regular season next week as my least favorite Celtic ever, edging out Todd Day, Fred Roberts, Sidney Wicks, Curtis Rowe and Vin Baker. At least Vinnie had an excuse: a drinking problem. Sheed has an apathy problem. His doughy, nonchalant shadow looms over every game.

Sheed roped the Celtics into giving him an $18.9 million, three-year deal, made a big stink about breaking MJ's 72-win record, then showed up for training camp wearing a fat suit.

Sheed caused my 62-year-old father to send me the following text recently: "Wallace can't rebound, blocks nobody out, gets outhustled on every rebound and plays matador defense. What an awful Celtic!!!!"

Sheed caused me to respond, "You forgot about all the 3s he misses."

Sheed is so out of shape that Reggie Miller started a sentence during the Cavs-Celtics game on TNT last month with "When Rasheed Wallace gets into game shape …"

Sheed has been healthy since the first day of training camp.

Sheed likes jogging at half-speed. He submits entire sequences -- two or three minutes at a time, six or seven trips up and down the court -- without ever passing either foul line. Sometimes I count to see how many consecutive possessions Sheed can pull off without crossing either charity stripe. His unofficial record is nine.
Click HERE to read the full column.