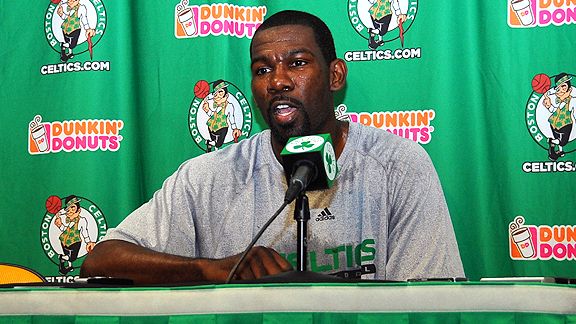 Steve Babineau/NBAE/Getty Images
Michael Finley nearly sat out Wednesday's game due to a back injury.A collection of postgame news and notes from afar after the Boston Celtics defeated the Toronto Raptors Wednesday night at the Air Canada Centre:
The rundown (a quick look at postgame headlines)
* Finley gives new meaning to back-to-back against Toronto
* KG tweaks ankle; Rivers not concerned
* Loose balls: Allen shines, Pierce sits
Finley gives new meaning to 'back-to-back' against Toronto
Back-to-backs are tough enough in the NBA, particularly when both ends are on the road, but Michael Finely encountered a whole new occupational hazard before Wednesday's game against the Raptors.
While picking up his travel luggage, Finley tweaked his back bad enough that Celtics trainer Eddie Lacerte phoned coach Doc Rivers Wednesday to alert him that the 37-year-old swingman might not be available against Toronto. But, not only did Finley play Wednesday night, he scored 14 points on on 5-of-7 shooting with a quartet of 3-pointers in the win.
"It's amazing, going into the game, Eddie called me and didn't think Mike could play because he strained his back in the room, picking up luggage," said Rivers. "That's when you know you're old. But Mike went out, warmed up, and said he felt great."
Finley didn't look great at first, missing his first two shots of the night. He must have simply been loosening up. He bounced back to hit his final five shots, including the four 3-pointers, none of which to seem to find anything but net.
"If the game had started at 3 o'clock I probably wouldn't have played," admitted Finley. "Ed worked on me before the game, I went and shot around, and it was better so I was able to play."
Save for a 15-point outing against Detroit last month, Finley's effort Wednesday might have been his finest in a Boston uniform. It was his second highest scoring output of the season and featured a season high with the four 3-pointers.
"[The win] was awesome and we needed it because Toronto was scoring a lot," said Rivers. "They had a nice pace, but our shooting won the game for us. When Ray [Allen] and Michael [Finley] get it going at the same time, and both are on the floor, that makes us really good. You can still pound the ball down low, but it affects the other team's ability to take away the low-post game because they're so worried about the guys out on the perimeter."
Finley is averaging 6.8 points per game in four appearances in April, hitting 6 of his last 8 3-pointers, and 8 of his last 12 shots overall.
"I didn't know what to expect," admitted Rivers. "We kept it simple. We use him as a guy who spaces the floor and we set picks for him. When you're that type of an offensive guy, it's easy to fit in.
"It's tough to get him to take a bad shot. He's so solid. And he's such a good guy in the locker room. Like I said before we picked him up, even if he doesn't make a shot, it'll be good for us. The fact that he makes shots, it's really good for us."
In a season in which Boston has struggled to find consistent scoring off the bench, Finley has cemented a role in the playoff rotation as a dash of immediate scoring off the pine. Ironically, he's in line to see more court time than Marquis Daniels and Nate Robinson, two players that were brought in to give the second unit additional scoring pop, but have struggled mightily recently.
Said captain Paul Pierce: "Watching the game in the fourth [quarter], I was sitting on the bench and [Finley] came in the game and gave us a real spark. The bench was huge for us tonight when the game was a battle with a six-point lead. They stretched the lead out, Michael Finley hit some big threes, and that was big for us especially on a back-to-back."
Added Rondo: "I feel like [Finley's] one of the best shooters still in the game. He definitely has the best form. Anytime he's open I'm trying to give him the ball."
KG tweaks ankle; Rivers not concerned
Garnett appeared to injure his left ankle in the second quarter, but spent a mere 48 seconds on the bench before returning to the court Wednesday.
"Old age, again," joked Rivers after the game. "We get hurt running sometimes. I think someone stepped on his foot. I don't know if he twisted his ankle. I was surprised to see him behind me -- he was back at the scorer's table."
Garnett registered 19 points on 7-of-12 shooting over 28 minutes. He hauled in only one rebound, but finished with a plus-18 in the plus/minus category.
The incident occurred with 1:44 remaining when Garnett got whistled for an offensive foul drawn by Jose Calderon. Garnett returned to the court 48 seconds after departing and played the remainder of the half en route to logging 28 minutes overall.
Loose balls: Allen shines, Pierce sits
* Celtics guard Ray Allen quietly registered 18 points on 7-of-15 shooting with 3 rebounds, 3 assists, and a steal.
But his stat line doesn't do justice to how Allen took over the game in the fourth quarter. He scored seven consecutive points for Boston at one point, generating a pair of steal/layup combinations (the latter of which featured a Rondo-like fake behind-the-back pass before a right-handed layup while driving to the basket).
As the Celtics pulled away in the final frame, Allen ensured it would never be close again.
"I try to be as aggressive as I can and follow what we are doing and try not and be overbearing in the offense," said Allen. "We try and move the ball, and when I get the ball in my hands, if I have a shot, go to the paint, go to the hole or get to the free throw line, all those things I want to do, but it's really up to the team. We have to move the ball and once it comes around to me I have to be aggressive."
* Pierce sat out the entire fourth quarter while enjoying some much-needed rest. He still logged 20 points over 30 minutes.
* Hedo Turkoglu left the game late in the first quarter after bumping heads with Tony Allen. Turkoglu sustained a nasal contusion and was taken to hospital for a CT scan. This just a day after Chris Bosh was injured in a freak on-court accident in Cleveland, forcing him to sit out Wednesday's game vs. Boston. "When it rains it pours, I guess," said Toronto swingman Antoine Wright. "We're dropping like flies right now."
Materials from the Associated Press were used.