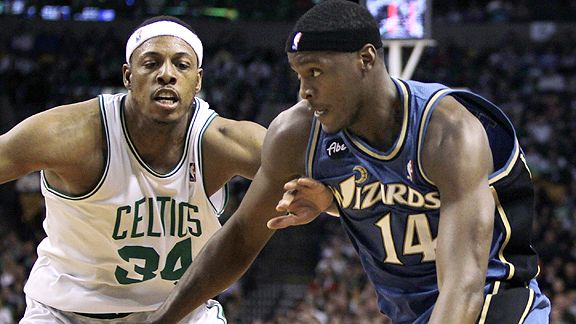 Charles Krupa/AP
The Celtics produced another lackluster effort against a lackluster opponent.BOSTON -- Instant reaction after the Washington Wizards posted a 106-96 triumph over the Boston Celtics Friday night at the TD Garden:
How the game was won: The final score doesn't quite do this one justice as it was ugly for Boston over the first three-plus quarters. Let's break it down like this: Washington forward Andray Blatche connected on 12-of-23 attempts for 31 points and 10 rebounds over 42 minutes Boston's Big Three combined for 11-of-35 shooting for 27 points and 14 rebounds over 90 combined minutes. Another athletic big, JaVale McGee, came off the Washington bench to chip in 14 points and 11 rebounds as Washington scored at will at times. Rajon Rondo finished with 17 points and 12 assists to pace the Celtics.
Turning point: The Celtics endured a scoreless streak of 7:35 as the Wizards scored 18 consecutive points to open a 21-point advantage early in the second quarter. When Paul Pierce hit a jumper with 2:40 to go in the first quarter, Boston trailed, 20-17. Before Tony Allen converted a layup with 7:05 to play in the second quarter, the Celtics trailed, 38-17. Washington's lead ballooned as high as 28 in the first half.
Stat of the game: The Celtics shot 30 percent (12 of 40 overall) in the first half and their bench generated only a single field goal (Allen's scoreless streak buster) while going 1 for 9 for 2 points.
Unsung hero: Nate Robinson injected some drama into what had previously been a blowout with a trio of trifectas over a 17-second span as Boston pulled within six with 50 seconds to play. He finished with 13 points on 5-of-9 shooting (missing his final three shots). Marquis Daniels, another forgotten man at the end of the bench, added 8 points on 3-of-5 shooting over three minutes.
What it means: For the Celtics, it was just another embarrassing effort (at least until the fourth quarter) on their home turf against a lackluster opponent. Boston fell to 24-16 at the Garden this season. The boo birds were out in full force as the Celtics trailed by nearly 30 in the first half to a team that entered Friday's game with the third-worst record in the NBA. The arena had cleared out before Robinson made things interesting for a fleeting moment.