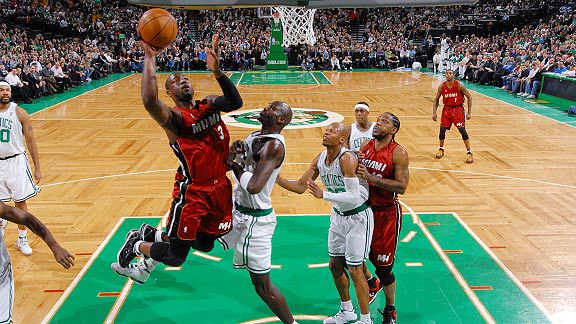 Brian Babineau/NBAE/Getty Images
Dwayne Wade has scored 24 points or more in 12 of his 20 career regular-season matchups against Boston. Does Dwyane Wade have the ability to take over a series against Boston?Before Andrew Bogut's season-ending arm injury, the argument about whom the Boston Celtics wanted to see in the postseason probably tipped more in the favor of Miami than Milwaukee. Now the general opinion seems to be swaying back toward the Bucks, particularly after Boston's victory in Milwaukee on Saturday night.
But for those who are having a hard time trying to pick a side to root for during the final week of the regular season, consider this: Boston has struggled mightily against opposing superstars over the last month of the season. So before you lobby for Miami, consider the Dwyane Wade factor.
Celtics coach Doc Rivers has, and not just because he loves to gush about a fellow Marquette alum. Rivers has mentioned multiple times over the past two weeks that, should the Celtics draw Miami, the best player on the court will be on the opposing team, which is always a dangerous proposition in the postseason.
Especially since Boston hasn't done a particularly good job of containing star players in recent games. Just look at its last five losses:
April 9 vs. Washington -- Andray Blatche 31 points, 11 rebounds
April 6 at New York -- Danilo Gallinari 31 points, 5 rebounds
April 2 vs. Houston -- Aaron Brooks 30 points, 9 assists
March 31 vs. Oklahoma City -- Kevin Durant 37 points, 8 rebounds
March 28 vs. San Antonio -- Manu Ginobili, 28 points, 7 assists
You can go back even further and see Deron Williams posted 22 points and 11 assists in a Utah win; LeBron James flirted with a triple-double in the March 14 Celtics-Cavs meeting (30 points, 8 rebounds, 7 assists); and Rudy Gay registered 28 points and 8 rebounds in a Memphis win.
Over Boston's last five losses, opponents have scored a total of 532 points -- cause for concern on its own. But the high scorers combined for 157 of those points, or a shade under 30 percent. That's unacceptable. There's something to be said for letting an opposing superstar get his and allowing the supporting cast to try to beat you. Right now the superstars are getting their points and the supporting cast is doing enough to help opponents beat Boston.
Wade has scored 24 points or more in 12 of his 20 career regular-season matchups against Boston. What's more, Miami has beaten the Celtics nine times in those games, and Wade has reached 24 points in seven of the victories.
The Celtics played better defensively Saturday against Milwaukee, but that will have to carry over to the postseason for them to even have a chance at a prolonged stay, particularly in light of their recent struggles in keeping opponents under triple digits.
Asked whether the Celtics' recent defensive slide -- they'd allowed at least 100 point in six straight games before Milwaukee -- raised a red flag, Rivers admitted, "If we're going to be a defensive team, it has to be a big concern.
"It's funny. When we were going through an offensive slump, I wasn't concerned. I knew eventually that would come around. We started moving the ball and all of a sudden [the offense improved]. But defense is what we hang our hat on and we haven't done a good job with two things: high field goal percentages -- teams are making 3[-pointers] -- and high point totals.
"Then the last thing is the fact that the best players are beating us. That, to me, stands out over all of them. Every night, the best player on the other team is having a big game against us. That's something, hopefully, we can fix."
The scoring potential of Bucks rookie Brandon Jennings and trade-deadline acquisition John Salmons aside, Milwaukee's best player is on the bench with an injury, which makes stopping him a whole lot easier for Boston. Wade, meanwhile, is averaging 31 points per game while shooting 53.5 percent over five contests in April.
Pick your poison.