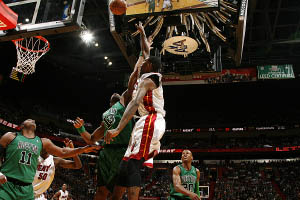 Issac Baldizon/NBAE/Getty Images
The Celtics and Heat look like potential opponents.Clouds are starting to give way to sunshine in the NBA playoff picture, especially for the Celtics.
While enjoying a second consecutive offday in Chicago on Monday, Boston's postseason fate became a little more clear given the action across the league and a Celtics-Heat first-round series is looking more likely than any other right now.
With Miami's victory over Philadelphia, coupled with Atlanta's triumph over Milwaukee, the Heat took a giant step toward securing the fifth seed in the Eastern Conference. With a win over lowly New Jersey (12-69) on Wednesday, Miami would lock up that fifth spot.
Milwaukee, meanwhile, needs a victory over Boston and a Heat loss to the Nets in order to pull even in the final standings (the Bucks would then net the higher seed thanks to the head-to-head tiebreaker).
The Celtics, currently pegged as the fourth seed and likely to play the Heat if they end up as the fifth seed, sit 1.5 games back of Atlanta in the race for the third seed, but will need some help if they want to gain that loftier position. Not only must Boston win its final two games of the season, but it would also need the Hawks to lose to Cleveland in their regular-season finale Wednesday. The fact that Shaquille O'Neal has been cleared to return might actually bode well for the Celtics, who would be rooting for a max effort from LeBron James and Co.
Speaking of the Cavaliers, if Boston is to end up as the fourth seed and advanced to the second round, its likely opponent would be top-seeded Cleveland. On paper, that's not an ideal playoff path, but Doc Rivers and his players have acknowledged that any title run will involve going through the best teams at one point or another.



Here are the remaining schedules for teams in the race for the 3/4 and 5/6 seeds:
Boston Celtics (50-30)
Tuesday -- at Chicago (39-41)
Wednesday -- vs. Milwaukee (45-36)
Atlanta Hawks (51-30)
Wednesday -- vs. Cleveland (61-20)
Milwaukee Bucks (45-36)
Wednesday -- at Boston (50-30)
Miami Heat (46-35)
Wednesday -- vs. New Jersey (12-69)
For more, check out our Playoff Matchups page.