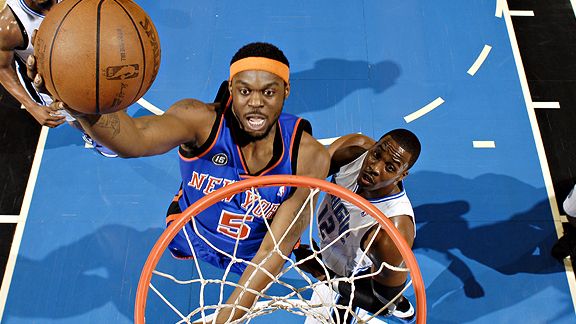 Fernando Medina/Getty Images
Bill Walker is making the most of extended minutes in New York.After the Celtics made a pair of moves Tuesday with eyes towards fleshing out their already-thin bench for the 2010-11 season, this might not go over particularly well, but ESPN.com's John Hollinger lauds Bill Walker as part of his "All-Garbage Time"

team.
First Hollinger's explanation on this unit:
Call it the "All-Garbage Time Team," if you will, as the last month of the regular season is basically 48 nightly minutes of garbage time for all the teams that have been eliminated from playoff contention. Those teams are focused on improving their lottery position, er, developing their talent for next season. [Darko] Milicic leads my list of 12 players who have thrived as a result. Don't plan on seeing any of these guys in an All-Star Game any time soon, but each is proving he has a place in the league.
And Walker finds himself among this group:
A throw-in to the Nate Robinson trade, Walker has taken over as the Knicks' small forward in the wake of Wilson Chandler's injury and showed enough promise that the Knicks likely will try very hard to pick up his $854,389 option for next season, even if it makes a slight dent in their precious trove of salary-cap space.

Walker's impressive instincts as a scorer are his best assets, as evidenced by a 53.2 percent mark from the floor and an average of 16.4 points per 40 minutes. Surprisingly, he's taken half his attempts from beyond the arc and drained 41.5 percent, supplementing his attack-the-rim game. He's only 22 and probably could do more if he sought to play off the dribble more, as his usage rate is still very low. Regardless, after battling his way back from multiple knee injuries, he's clearly an NBA-caliber player.
Despite all the hand-wringing over this trade, particularly as Nate Robinson struggles to establish himself as a consistent performer off Boston's bench, we still shrug our shoulders when someone laments the loss of Walker. It just wasn't going to happen here.
What's more, while Walker's scoring stats are glossy, let's remember that scoring is one thing the Knicks actually do fairly well. You might remember that Nate Robinson averaged 13.2 points per game there and 6.4 points per game in Boston.
In March, Walker averaged just 2.7 rebounds and 1.4 assists over 27 minutes per game. In Walker's defense, those numbers have jumped up a bit in April and he's averaging 4 rebounds and 1.7 assists over 31.4 minutes per game in seven contests. If Walker is able to show that he's more than a scorer, then you can certainly lament the Robinson-for-House swap.
Click HERE

to read Hollinger's "All-Garbage Time" team.