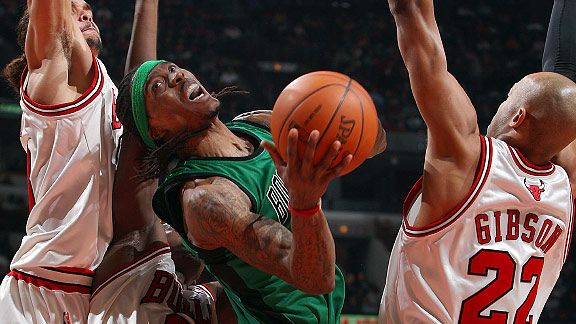 Gary Dineen/NBAE/Getty Images
Nothing came easy for Marquis Daniels and the Celtics Tuesday night.Instant reaction after the Chicago Bulls posted a 101-93 triumph over the Boston Celtics Tuesday night at the United Center:
How the game was won: Another night, another opposing superstar produced a big game against the Celtics. Derrick Rose poured in a career-high 39 points on 15-of-22 shooting with seven assists and five rebounds over 46 minutes, while Kirk Hinrich added 30 points on 11-of-20 shooting with a quartet of 3-pointers. Paul Pierce paced Boston with a team-high 28 points on 12-of-17 shooting, while Ray Allen added 25 points with four 3-pointers of his own.
Turning point: The Celtics carried a one-point lead into the fourth quarter, but Chicago embarked on a 14-4 run to start the final frame, highlighted by a 6-0 burst with under nine minutes to go that helped the Bulls pull away because...
Stat of the game: Boston generated just one field goal over the first 7:27 of the fourth quarter and soon found itself down nine with 4:33 to go. The Celtics were simply unable to put the ball in the cylinder during the stretch. Boston finished with 43.8 percent shooting overall (35 of 80) and generated only seven fourth-quarter buckets.
Unsung hero: Brad Miller logged 21 minutes off the bench for Chicago, contributing a plus-15 in the plus/minus category while registering eight points and six rebounds (helping to offset five fouls).
What it means: Chicago took another step towards securing the eighth and final playoff seed in the Eastern Conference and Boston is likely to turn into a fan of the Bulls after Tuesday night, since the eighth seed will battle top-seeded Cleveland in the first round of the postseason (the same Cleveland team Boston is likely to see in the second round if the top seeds take care of business in the opening round). Troubling areas Tuesday for Boston: 1. Boston Boston's bench combined for 20 points on 7 of 21 shooting, with Rasheed Wallace registering only two points on 1-of-7 shooting; 2. Kendrick Perkins finished 1-of-3 shooting for two points over 27 minutes. He did grab 11 rebounds; 3. Rajon Rondo missed eight of the 10 shots he took for a mere four points over 37 minutes.