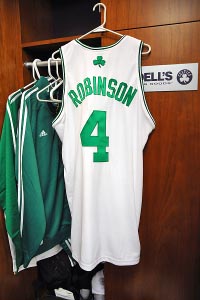 Brian Babineau/NBAE/Getty Images
Nate Robinson chose a very appropriate No. 4 jersey for the fourth-seeded Celtics.With Tuesday's loss to the Chicago Bulls, the Boston Celtics have guaranteed themselves the fourth seed in the upcoming Eastern Conference playoffs.
It's looking increasingly likely that the Celtics will meet the Miami Heat in the opening round of the postseason as the Heat can lock up the fifth seed with a win Wednesday night over the lowly New Jersey Nets in both teams' regular-season finale.
Boston, the Atlantic Division champion, had been in a race for the third seed, but couldn't keep pace with the Atlanta Hawks, the second-place finisher in the Southeast Division. Many viewed the third seed as a prize because it likely would have meant a first-round matchup against the injury-depleted Milwaukee Bucks and would have spared the team a second-round matchup against Cleveland.
The Celtics wrap up the regular season Wednesday night with a visit from Milwaukee. The Bucks can still shimmy up to the No. 5 seed with a win over Boston coupled with a Miami loss to New Jersey.
Elsewhere in the Eastern Conference, Chicago maintains a one-game lead over Toronto in the battle for the eighth seed. The Bulls can punch their postseason pass with a win over Charlotte Wednesday (or a Raptors loss to the Knicks). Whoever emerges will joust with Cleveland in the first round.
The only first-round matchup locked in right now in the East is No. 2 Orlando vs. No. 7 Charlotte.