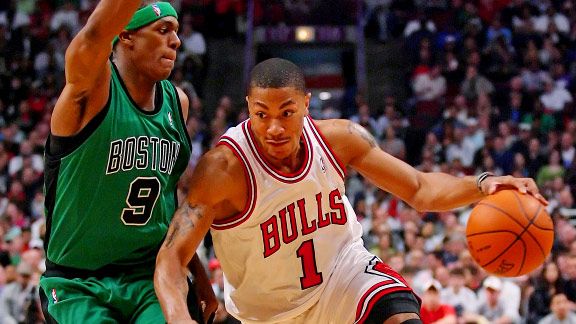 Dennis Wierzbicki/US Presswire
The Celtics had no answer for Derrick Rose.Five quick hits from afar after the Chicago Bulls topped the Boston Celtics Tuesday night at the United Center:
1. Vintage Pierce Celtics coach Doc Rivers called Paul Pierce the silver lining in a loss that cemented Boston's faith as the fourth seed in the Eastern Conference. But Boston would clearly rather be a fourth seed with Pierce firing on all cylinders than a third with him struggling to find consistency.
Pierce connected on 12-of-17 shots Tuesday for a team-high 28 points, this after scoring 24 points on 10-of-17 shooting in a win over Milwaukee Saturday.
"That's two games in a row that he was basically un-guardable," said Rivers. "Going into the playoffs, that's the best timing we could have."
Added Pierce: "I'm feeling good. My body is pretty much healed, this is exactly where I want to be at this point in the season. I feel like I've gotten into a nice groove offensively and that's something we're going to need going into the playoffs. I hope to keep it going and do the things necessary to help this team win."
2. Pierce and Allen shoulder load Pierce wasn't the only player with a hot hand Tuesday. Ray Allen connected on 8-of-14 shots, including 4-of-7 beyond the arc, for 25 points. Allen has scored 17 points or more in four of his last five games, averaging 18.2 points per contest during that five-game span (a bucket above his 16.2 ppg this season).
Pierce and Allen combined to go 20 of 31 from the field, but the other Celtics were a mere 15 of 49 overall. Chief among the offenders were Rasheed Wallace (1 for 7, 2 points), Rajon Rondo (2 for 10, 4 points), Kendrick Perkins (1 for 3, 2 points) and Michael Finely (0 for 3, 0 points).
3. Bulls were a desperate team Rivers didn't make excuses for the loss, but did note that Boston wasn't about to extend minutes for guys like Kevin Garnett given that the playoffs are right around the bend. Rivers acknowledged that, had it been a playoff game, he might have utilized his personnel differently. But, more than anything, he knew he was up against a desperate Bulls team fighting for its playoff life.
"You knew if it came down to desperation, we were in trouble," said Rivers. "I don't care how mentally tough you are, when you have one team fighting for their lives and another team in the third or fourth seed, you knew no matter what that would be tough. I was really concerned that if it was close down the stretch, you knew that would be a difficult game. Even through that, I thought our guys were right there. They wanted it."
4. Power struggle Amidst a thrilling charge towards the postseason, Tuesday's game might have been overshadowed in Chicago by a Yahoo! Sports report that Bulls vice president John Paxson tried to provoke a fight with coach Vinny Del Negro over personnel use late last month.
"All those things are internal, I have no comment on that," said Del Negro. "Whatever happens is between the organization and myself, and the people involved."
Read more from our friends at ESPNChicago.com, HERE.
5. Loose balls: KG's stitches, Rasheed's folly A trio of leftovers...
* Garnett returned to the starting lineup after sitting out Saturday's game and earned three stitches above his left eye for his efforts. Read more HERE.
* Wallace has been the subject of much criticism lately and he didn't help his cause when, with Boston trailing by three early in the fourth quarter, he inadvertently registered a putback on the wrong basket as he fumbled a rebound. That bucket matched the number of hoops Wallace tallied for his own team on a night he went 1 for 7 from the floor with two points.
* Tony Allen sat out the game due to illness and the bench suffered without him. Marquis Daniels got early action in place of Allen and paced the offense with seven points on 3-of-8 shooting, but didn't appear to do enough to warrant Rivers giving him more playing time unless it's an emergency situation.