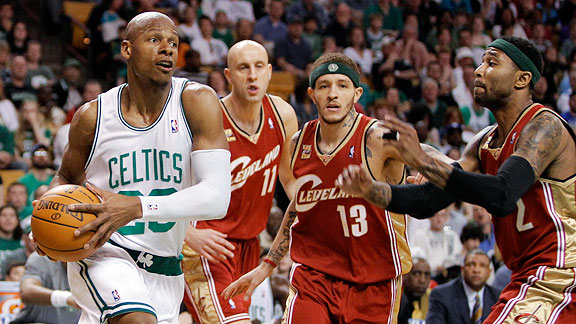 David Butler II/US Presswire
Get ready for Celtics vs. Cavaliers.So it comes down to this: Some time in late April or early May, the Boston Celtics will visit Cleveland to open a best-of-seven, second-round series in the Eastern Conference playoffs that will define their 2009-10 season.
By virtue of Tuesday's loss in Chicago, the Celtics guaranteed themselves a disappointing fourth seed in the Eastern Conference. As Kevin Garnett noted, "Our goal was set a lot higher, but we'll take it."
Indeed, there's no sense in further lamenting Boston's inconsistent play since Christmas. Sure, it cost them the chance to shimmy at least one spot higher on the postseason pyramid, but that didn't happen.
Forget the fact that it really doesn't matter if the Celtics had won 50 games or 40 -- the fourth seed was as low as a division champ could go -- considering they boast an 11-game cushion in the Atlantic Division entering the final day of the regular season.
For the past week, coach Doc Rivers has preached that his team will ultimately be judged by what it accomplishes in the postseason, and now we have a pretty good idea how it will play out.
Let's be honest: The Celtics should get past whoever emerges as the No. 5 seed, whether it's the Miami Heat (most likely) or Milwaukee Bucks. Given Boston's inability to string together consistent efforts, it might not be a cakewalk, but there's little doubt Boston will advance.
And the Celtics' reward, barring the unfathomable, will be a meeting with soon-to-be Most Valuable Player LeBron James and the NBA's only 60-win team.
Win that series and all the troubles are forgotten. Lose and the 2009-10 season will be remembered as one of missed opportunities.
The Celtics seemed resigned to their fate.
"It is what it is," said Rivers. "I would like a three, two or one, but we didn't get it. It's going to be a tough series, whoever we play. We just have to be ready to play."
Click HERE to read the full story.